Press release
Alun Cairns takes part in the Takeover Challenge
Wales Office opens its doors to young people on Takeover Challenge Day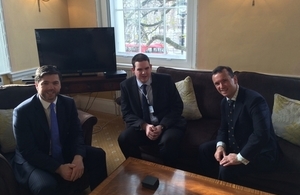 Wales Office Minister Alun Cairns will give up his hot seat today (Tuesday, 1 December) as children fill many of the UK's top jobs during this year's Takeover Challenge.
Almost 50,000 children are taking over adults' jobs in this year's Takeover Challenge which sees children and young people's talents shining as they 'take over' top jobs in government, businesses and other organisations.
Wales Office Minister Alun Cairns said:
On Takeover Day, we will open the doors of the Wales Office to show young people the important work we do here – representing Wales in Whitehall and being the face of the UK Government in Wales.

It is a great chance to give an insight into how central government works and inspire them to follow a future career in politics or the civil service.

I urge organisations across Wales and the rest of the UK to take part in future Takeover Challenges. This programme inspires the children that take part and enables politicians and business leaders to learn from the different perspective that young people bring.
Jack Gillum said:
It was really interesting to see different aspects of the Minister's work - it was a lot more varied than I would have imagined.

I went to everything from senior management team gathering, to a session on transport.

I'm interested in perhaps standing for Parliament one day, so it was fascinating to see the inner mechanics of Whitehall.
As well as taking over at the Wales Office, this year's Challenge has seen children broadcast to the nation across the BBC's output. The Mayor of London and many other mayors have also passed over their chains of office; further Civil Servants will be handing over the reins, and NHS directors and Police Commissioners will let young people take control in what will be the biggest Takeover yet.
The Takeover Challenge has grown year on year – in 2014 over 44,000 children and 1,200 organisations took part. The growing popularity has enabled more and more young people to get involved.
Published 1 December 2015