World news story
Allied WWII airmen to be buried in ceremony at Padua
On 18 July a ceremony will take place at the Commonwealth War Cemetery to bury four airmen who lost their lives on 19 April 1945 in Italy.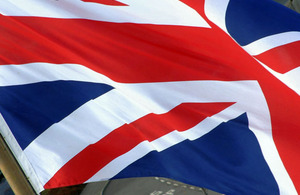 The four aircrew were Flt Sgt Perkins (Royal Air Force), Flt Sgt Bostock (RAF), Flt Sgt Raikes (RAF) and WO Hunt (Royal Australian Air Force). Relatives of the four men will be meeting for the first time, coming from as far afield as the United Kingdom and Australia, in what will be a very moving occasion commemorating the life of these men who lost their lives at such a young age.
The remains of the men and the aircraft they were flying, a Douglas A-20 Boston of 18 Squadron RAF, were uncovered in the area of Copparo in 2011 by some local archaeologists, based on eye-witness reports. The original eye-witness remembered the crash with clarity, the crash having been nicknamed locally as the 'Pippo', which continued to burn for a number of days after it was shot down. Some of the wreckage of the aircraft and some surviving personal belongings will be presented to the relatives of the four servicemen during the opening of a wing of the River Po WWII Museum in the town of Felonica, dedicated entirely to the crash. This will take place on the morning of 17 July. A press conference will follow.
The event is being organised by the Royal Air Force and the Royal Australian Air Force with the help of the British Embassy in Rome. Participating in the event will be serving representatives of both Air Forces, including members of Queen's Colour Squadron and 18 Squadron, as well as Italian military and civilian representatives.
Published 28 June 2013
Last updated 10 July 2013
+ show all updates
Added translation
Added translation