Press release
Allan Cook appointed as BIS Lead Non-Executive Board Member
Business Secretary Vince Cable has announced the appointment at the Department for Business, Innovation and Skills.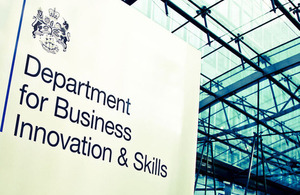 Business Secretary Vince Cable has announced the appointment of Allan Cook as the Lead Non-Executive Board member at the Department for Business, Innovation and Skills (BIS).
Non-executive board members are experts from outside government who assist in the delivery of policy using relevant experience from business.
Allan is a chartered engineer with more than 30 years' international experience in the automotive, aerospace and defence industries, and took up the post of chairman of Atkins in February 2010. He is also Chairman of Selex ES, Finmeccanica UK and Deputy Chairman of Marshall Group.
Allan will attend his first departmental board meeting on 6 March 2014.
Business Secretary Vince Cable said:
Allan has a formidable track record gained across many of the high-tech industries that are driving and will sustain economic recovery. He is ideally placed to help steer the department as we work with business to accelerate growth, and to lead our non-executives as they provide challenge and support to my team.
Allan Cook said:
The Department for Business, Innovation and Skills is working more closely than ever with industry to support growth – the Employer Ownership Pilot is a great example of this approach. I am delighted to be able to support the BIS team, and help identify what more can be done to develop the innovative skills, technologies and capabilities the country needs in a very competitive international market.
Professor Dame Ann Dowling has been appointed as a non-executive board member and will also attend her first departmental board meeting on 6 March 2014.
Ann is Head of the Department of Engineering and Deputy Vice-Chancellor at the University of Cambridge, where she is Professor of Mechanical Engineering and chair of the University Gas Turbine Partnership with Rolls-Royce. Ann is a Non-Executive Director of BP.
She will become the first female president of the Royal Academy of Engineering in September 2014.
Notes to editors
Allan Cook was Chief Executive of Cobham PLC until the end of December 2009 and has previously held senior executive roles at GEC-Marconi, BAE Systems and Hughes Aircraft. Allan is also chairman of the Skills & Jobs Retention Group and Chairman of the Sector Skills Council for Science, Engineering and Manufacturing Technologies (SEMTA).

Professor Dame Ann Dowling was appointed CBE by the Queen for services to Mechanical Engineering in 2002, and DBE for services to Science in 2007. She has served on a number of industry and government advisory committees and chaired the Royal Society/Royal Academy of Engineering study on nanotechnology.

Professor Dame Ann Dowling and Allan Cook both commenced duties as BIS non-executive board members on 1 February 2014.

The key responsibilities of non-executive board members are to:

give advice on the operational/delivery implications of policy proposals
provide independent support, guidance and challenge on the progress and implementation of the business plan
provide management advice to the Permanent Secretary
be available to advise ministers on operational issues and performance
form a Remuneration Committee to advise on the bonus structure for the department
form a Risk and Audit Committee
attend occasional government-wide non-execs meetings
be involved in the recruitment and appraisal of senior executives, and succession planning
determine, together with the Finance Director, a limited number of Key Performance Indicators for the department as a basis for monitoring progress
In addition to the above, the Lead Non-Executive Board Member will:
meet regularly with other non-execs
ensure that the Secretary of State is aware of any concerns
support the Secretary of State in his or her role as chairman of the board
ensure that the non-execs meet alone with the Secretary of State from time to time
liaise with the government-wide lead non-exec (Lord Browne)
5.The government's economic policy objective is to achieve 'strong, sustainable and balanced growth that is more evenly shared across the country and between industries'. It set 4 ambitions in the 'Plan for Growth', published at Budget 2011:
to create the most competitive tax system in the G20
to make the UK the best place in Europe to start, finance and grow a business
to encourage investment and exports as a route to a more balanced economy
to create a more educated workforce that is the most flexible in Europe
Work is underway across government to achieve these ambitions, including progress on more than 250 measures as part of the Growth Review. Developing an Industrial Strategy gives new impetus to this work by providing businesses, investors and the public with more clarity about the long-term direction in which the government wants the economy to travel.
Published 5 March 2014