Press release
Alistair Burt: Terror and extremism have no place in Lebanon
FCO Minister for the Middle East Alistair Burt has condemned tonight's car bombing in Beirut and extended condolences to all those affected.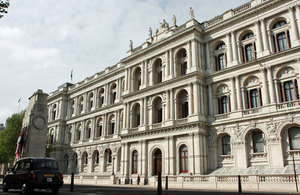 Commenting on reports of casualties caused by a car bomb in southern Beirut today, Foreign Office Minister Alistair Burt said:
I condemn this evening's bombing in Beirut and extend my thoughts and condolences to those injured and those that have lost friends or family in this senseless attack.

Terrorism and extremism have no place in Lebanon. I call for the Lebanese state to investigate this urgently and bring the perpetrators to justice.

The UK remains resolutely committed to supporting stability in Lebanon.
Further information
Follow Foreign Office Minister Alistair Burt on twitter @AlistairBurtFCO
Follow the Foreign Office on twitter @foreignoffice
Follow the Foreign Office on facebook and Google+
Published 15 August 2013