Alistair Burt meets with Lebanese officials
On his second day visit to Lebanon, Minister Alistair Burt met with President Michel Sleiman, Prime Minister Saad Hariri, Speaker Nabih Berri, and Foreign Minister Ali Shami.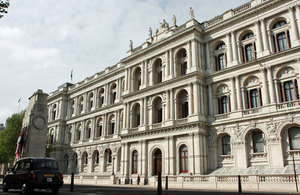 Minister Burt with Lebanese President Sleiman
Discussions focused on the Middle East Peace Process, UNSCR 1701, Palestinian refugees and bilateral relations between Lebanon and the UK.
The Minister reiterated the UK's commitment to Lebanon, highlighting Lebanon's importance as one of the main players in the region for a peaceful and prosperous Middle East.
Mr Burt held a meeting with Salvatore Lombardo, head of UNRWA in Lebanon for an overview of the situation of Palestinian refugees in Lebanon. He then paid a visit to the Palestinian refugee camp of Burj El Barajneh in Beirut and was briefed by an UNRWA representative on the facilities of UNRWA in the camp. The Minister also had the chance to listen and engage with some of the camp's residents.
Search the news archive
Published 14 July 2010