Alison Wolf writes for 'The Times' about her review of vocational education
Alison Wolf writes about reforming vocational education in England.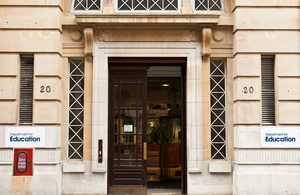 Alison Wolf is professor of public sector management at King's College London. She completed a review of vocational education for the Department for Education in March 2011.
She wrote the following article for 'The Times' on 8 March 2011.
Should we care how two-thirds of English young people are educated? It sounds like a stupid question. But look at what we offer teenage students, and it seems obvious that, in fact, our elite hasn't been bothered.
In England, as in every other developed country in the world, 'staying on' at school is now so normal that it hardly counts as a decision. Well over 90% of 16-year-olds continue education or formal training after their GCSEs, well in advance of it being made compulsory a few years from now.
Of these, only the minority are doing pure A levels, the route taken by pretty well every journalist, politician or senior civil servant. The large majority are not.
I have just completed a review, for government, of our majority - more commonly known as 'vocational' - education. I have recommended major changes because we are wasting billions of pounds a year educating young people for unemployment not employment. This is economically demented, and also flies in the face of English citizens', and taxpayers', legitimate aspirations and desires.
Vocational education courses are, of course, highly varied. They include Rolls-Royce or Airbus apprenticeships, where competition for a place is fiercer than for Oxbridge. BTEC National Diplomas lead to university for growing numbers of 18-year-olds; long-established craft qualifications feed into good careers.
But many vocational qualifications have no obvious market value at all. We have known this for years, from repeated high-quality research studies. They lead nowhere, other than to more, equally pointless qualifications. Schools and colleges are been rewarded for 'making the numbers'; paid when people pass and penalised if they do not. So they have had a strong incentive to enter students for qualifications because they are easy, rather than because they are good for students. Many have duly done so.
However, 'payment by results' is only part of the problem. Vocational education has been distorted by a particularly strange case of English exceptionalism, which has put us completely at odds with the rest of the developed world.
Does this matter? Yes. As we have just discovered again, economies are not stable and predictable. Changing one's occupation is the rule, not the exception, and the labour market rewards general skills. Everywhere else, specialisation has been duly postponed and a general core education is taken by all students until around 16. When vocational specialisation does begin, other countries combine it with a lot of general education as well.
And then there's England. Here, vocational qualifications for young people have been developed, by government, in the most narrow of ways, based on the very specific skills of today's economy. The theory is that this gives 'business' what it wants.
Yet it is not what employers want at all. These new government-sponsored qualifications are the ones which, time and time again, show zero or negative returns in the labour market. In other words, in practice, employers treat them as worthless.
More and more English 14- and 15-year-olds are now taking large numbers of vocational options. But no pupil that age, in the modern world, should be on a narrow track. That doesn't mean giving up practical and vocational subjects altogether; one can easily deliver broad clusters of academic subjects, such as the coalition government's new English Bacc, in 70% or 80% of the week. But early specialisation is economically stupid as well as deeply unfair to those involved.
Our current system is one of which we should be ashamed. Take maths and English, the most fundamental skills of all: the entrance tickets to A levels, top apprenticeships, university, the labour market. They are important because they matter in pretty well everything and are rewarded right through life.
In England, over half our 16-year-olds still fail to get good English and maths GCSEs. What I hadn't realised until I carried out this review is that, 2 years later, over half still don't have them; and that our education system has been placing huge barriers in their way. If you are paid by results - as sixth-forms have been - and steered by governments towards easy literacy and numeracy tests - as sixth-forms have been - GCSEs do not look very attractive. And so they have duly disappeared from the sixth-form curriculum.
It is simply not true that we are a nation with low aspirations. The mothers of 97% of new-borns, from all social classes, hope their children will go to university one day; parents of every social class are desperate to find good schools for their children. Our major parties are all, quite rightly, signed up to opportunity for all. But English government has been delivering education which systematically denies opportunities to huge numbers of young citizens. This is dreadful for them. It is bad and shameful for us all.
Published 8 March 2011