Press release
Alan Cook reappointed non-executive chairman of Highways Agency
Alan Cook reappointed as non-executive chairman of the Highways Agency Board.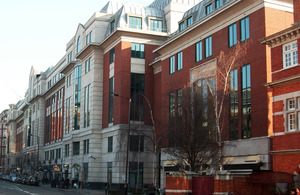 Alan Cook has been reappointed by Transport Secretary Justine Greening as non-executive chairman of the Highways Agency Board for a further 12 months.
Mr Cook, who was first appointed in January 2011, will focus on supporting the Transport Secretary's ambitious programme for reforming the strategic road network while ensuring that the Agency continues to deliver its business against tough efficiency targets.
Mike Penning, Minister for Roads said:
This is a challenging time for the Highways Agency but I am confident that Alan Cook is the right person to work with ministers towards achieving the agency's transformation into a more efficient, business-like and commercially-focused operator, which crucially does much more to listen and respond to the needs of road users.

His extensive experience will also help support the agency in taking forward my roads reform agenda to improve how we operate, maintain and enhance our major roads which are the backbone of Britain, getting people to and from work, powering the economy and keeping families connected.
In May, the Transport Secretary published her response to Alan Cook's independent review of the strategic road network. The Transport Secretary also set out ambitious plans to increase the quality and efficiency of the network, offering a better service to motorists and business users.
Mr Cook's role will see him providing advice to senior staff and making sure the Agency delivers on changes identified in his independent review.
He will also offer advice on organisational change and provide views on alternative operating models which are currently being developed as part of a feasibility study announced by the Prime Minister in March.
Mr Cook said:
I welcome the opportunity to continue in the role of chairman for a further 12 months in order to both assist with the crucially important feasibility study and also help the Agency mobilise its own change programme.

This programme will deliver the changes identified in the government's response to my independent review with the aim of the Highways Agency becoming a best-in-class executive agency.
Notes to editors
The press release announcing Alan Cook's appointment as the first ever non-executive chairman of the Highways Agency is available.
The Transport Secretary's strategic road network reform announcement in May is available.
Alan Cook's report 'A Fresh start for the Strategic Road Network' is available on both the department's and the agency's websites.
Press enquiries: 020 7944 3066
Out of hours: 020 7944 4292
Public enquiries: 0300 330 3000
Published 26 July 2012