News story
Airline pilot apprenticeships take off
Higher Apprenticeships enable the Government to drive economic growth by targeting specific sectors where advanced skills gaps have been identified…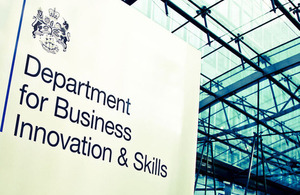 Higher Apprenticeships enable the Government to drive economic growth by targeting specific sectors where advanced skills gaps have been identified.
For example, it is estimated that between now and 2030 European airlines will need to recruit 92,500 new pilots while the UK will need to train 96,300 new engineers over the next four years just to replace those who are due to retire.
Higher Apprenticeships also allow people to pursue degree level study while getting paid, widening access routes and helping to widen participation.
The second round of the £25 million Higher Apprenticeship Fund will support the development of 4,230 new Higher Apprenticeships in sectors including aviation, low carbon engineering, legal services and space engineering.
Employers, including Siemens, Unilever and the UK Space Agency will benefit from world class, nationally accredited technical training delivered in the workplace.
Business Secretary Vince Cable said:
"Through the Higher Apprenticeship Fund we can target sectors where skills shortages are threatening to choke off growth.
"They also help us break down the doors of professions that are not representative of the society in which we live. It cannot be right for example that only 4 per cent of registered commercial airline pilots are women.
"Higher Apprenticeships are an essential step in rebalancing our economy and building a fairer country where growth is spread evenly and opportunities are not limited to the privileged."
Skills Minister John Hayes said:
"By radically increasing the number of degree level apprenticeships we are putting practical learning on a level footing with academic study.
"Doing an apprenticeship should be one of the best gateways to university-level study. Through the Higher Apprenticeship Fund we are creating 23,000 places for young people to take degree-equivalent Higher Apprenticeships in sectors like space engineering and renewable energy."
David Way, Chief Executive of the National Apprenticeship Service said:
"The expansion of the Higher Apprenticeships underpins our commitment to raising the quality of Apprenticeships.
"We are seeing major employers opening up recruitment and training to young apprentices. Young people and their parents can see clear opportunities to climb the jobs ladder right to the top through taking up Apprenticeships."
Procter & Gamble Higher Apprentice Lori Douglass said:
"I have enjoyed every minute of my apprenticeship with P&G. As well as an exciting career with excellent progression opportunities, I have gained confidence and a wealth of invaluable experience and training."
Nine partnerships comprising employers and training providers will receive a total of £6m, following a competitive bidding process.
This is the final tranche of projects being supported by a £25m fund for Higher Apprenticeships and builds on the 21 projects announced in December last year.
**Notes to editors
1. The following projects will be supported by the Higher Apprenticeship Fund (HAF investment in bold**) following a competitive bidding process to identify the most innovative proposals to meet employers' skills requirements:
The development by City and Guilds of a Higher Apprenticeship Pathway for commercial airline pilots and help employers including Jet2, British Airways, The Civil Aviation Authority, Servisair, Monarch and Flybe. This will help address the predicted shortfall in pilots over the next 20 years and address under-representation with regard to ethnicity, gender and disability. £217,800.

Loughborough College is developing Level 4 apprenticeships in Space Engineering. Participation will be targeted to under-represented groups, particularly through women in engineering. It will also address shortage of skills not currently met by graduate intake. £500,000.

The City and Islington College are developing Level 4 Apprenticeships in Engineering and Environmental Technologies. These will meet the skills demands of local business in Construction, Engineering, Manufacturing, Energy and Utilities, Manufacturing Production and Processing and help employers including National Grid, Siemens, Centrica, Unilever, MITIE, Britvic and Transport for London. The development will address under representation in STEM with targets for getting women, BAME, and those with disabilities into engineering. The model will assist the UK in meeting carbon targets of an 80% cut in emissions by 2050, allowing businesses to address 'green opportunities and UK industries to take the lead in the global green economy. £1,391,000.

PricewaterhouseCoopers (PWC) is developing apprenticeships at Level 6 and Level 7. This will establish a true alternative route to high skills careers in Accounting and Professional Service helping to tackle diversity issues in the financial sector. £960,000.

Skills for Care are developing Level 5 apprenticeships in Social Care. These will include specialist routes for managers of services and senior specialists with targets around ethnicity, gender and disability. Employers who will benefit include Housing 21, Saga Home Care and Barchester. £634,863.

Pearson in Practice / Construction Learning World are developing Level 4 apprenticeships in Legal Services. This will offer a non-university alternative into law. Specialist technical pathways will include personal injury, commercial litigation and debt recovery. Employers who will benefit include Eversheds, Hebert Smith and Skills for Justice. £993,000.

There is currently a lack of skilled candidates to fill managerial vacancies within hospitality. People 1st is developing the infrastructure to deliver the new Level 4 apprenticeship in Hospitality Management and the generic Leadership and Management higher apprenticeship at Level 5. £858,088.

EU Skills are developing apprenticeships at Level 4 and Level 5 in Energy and Utilities. This will help replace the ageing workforce and adopt new technologies to tackle climate change. Companies who will benefit include Siemens, E.ON, National Grid and Scottish and Southern Energy. £242,954.

Newham College is developing Level 5 apprenticeships in Retail Management. This will address skills shortages and be accessible by all retailers regardless of size. £700,000.
BIS's online newsroom contains the latest press notices, speeches, as well as video and images for download. It also features an up to date list of BIS press office contacts. See http://www.bis.gov.uk/newsroom for more information.
Notes to Editors
Contact Information
Name BIS Press Office Job Title
Division Department for Business, Innovation & Skills Phone
Fax
Mobile
Email bispress.releases@bis.gsi.gov.uk
Name Ashley Rogers. Job Title
Division Department for Business, Innovation and Skills Phone 020 7215 5971 Fax
Mobile
Published 22 June 2012