Press release
Airbus worker is flying high after online car win
A Liverpool man has won a brand new car worth over £10,000 after renewing his vehicle tax online.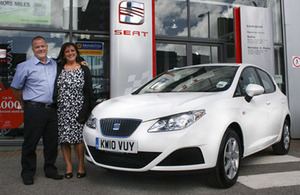 Renewing car tax online proved to be a good choice for an Airbus worker from Liverpool, after he won a brand new car worth over £10,000.
Jeffrey Egan, aged 55, used the DVLA online service to tax his car and was automatically entered into a free prize draw to win one of three SEAT Ibiza Ecomotive 1.4 TDI that are given away each month.
Mr Egan, who was presented with his car on 24 August at the SEAT Dealership in Pall Mall, Liverpool said:
I can't believe I've won a car. When the letter arrived I was not at home to sign for it, so the postman left a card advising me to go to the sorting office to collect it. As I had no idea what it was, I left it for a week before going to pick it up! When I opened the letter and read "Congratulations you have won a car" I thought it was a hoax until I checked the DVLA website and my name was there.

I rang my two sons to tell them and they couldn't believe it, they said "Dad, it's a wind up" I don't think they were convinced until they actually saw the letter!

News travels fast and everyone seems to know I've won, however one lady in the local shop thought I'd won a holiday to Ibiza! The news has even travelled as far as America, I recently received an email from someone my son knows over there congratulating me!

I always use the online service to tax my car because it is so convenient, it only takes four minutes and you receive your tax disc in the post a couple of days later. I recommend it to everyone!
With over 2 million customers every month, DVLA's online and telephone services to tax or SORN vehicles is proving a huge hit with drivers. The services are available 24 hours a day, 7 days a week and you don't need to find your MOT or insurance documents, as DVLA automatically checks these for you.
To renew vehicle tax or SORN quickly and easily go online or phone 0300 123 4321 or EVL Minicom 0300 790 6201.
Notes to editors
SEAT has provided the cars at no cost to DVLA or the taxpayer.
The SEAT Ibiza Ecomotive was chosen for the prize draw because it met DVLA's criteria (cars provided free of charge for a monthly prize draw, NCAP Safety Standards, low emissions, car tax bands A or B).
The prize draw initiative is part of a marketing strategy, to encourage motorist to use DVLA's Electronic Vehicle Licensing system, which has won both National and European Business Awards.
Press office
DVLA Press Office
Longview Road
Morriston
Swansea
SA6 7JL
Email press.office@dvla.gsi.gov.uk
Telephone (only for use by journalists and the media): 0300 123 0791
Telephone (out of office hours – only for use by journalists and the media): 0300 123 2407
Published 26 August 2010