Airborne supply experts receive Afghanistan medals
Following their recent six-month tour of Helmand province, soldiers from 13 Air Assault Support Regiment, The Royal Logistic Corps (13 AA Sp Regt RLC), were presented with their Operational Service Medals at Merville Barracks, Colchester, today.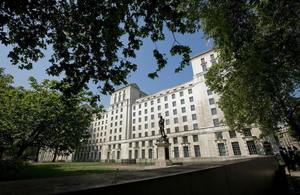 The soldiers, who were responsible for keeping the Army's front line in Afghanistan supplied with everything it needed, were praised for their 'professionalism and commitment' by Her Royal Highness The Princess Royal, who is the RLC's Colonel-in-Chief.
Some 200 soldiers from the Regiment were on parade, the majority of whom had completed their first tour of Afghanistan and received Operational Service Medals from The Princess Royal.
Her Royal Highness said:
As Combat Support Logistic Regiment, you were in the front line of operations in Afghanistan, across a larger geographic area than any other unit.
A huge part of the Regiment's success is down to the confidence soldiers had that their families were being well looked after at home, and I would like to thank your Rear Operations Group and welfare team for their tireless work.
The work of all of you in the service of your country is appreciated and will not be forgotten.
Lieutenant Colonel Gerry Ewart-Brookes, Commanding Officer of 13 AA Sp Regt RLC, said:
It was a very successful tour, which took us to every part of the theatre, and we were involved in every aspect of operations.
The success was down to the professionalism of our soldiers and the depth of experience we have in the Regiment, which has deployed to Afghanistan four times.
This parade is about thanking all our soldiers for their efforts and giving them a chance to show off in front of their families, who we must also thank for the marvellous support that was fundamental to our success on tour.
Among soldiers receiving medals was Private Jordan Jack from Dunfermline. The 21-year-old drove an Oshkosh fuel tanker as part of the combat logistic patrols that supply forward operating bases across Helmand. Pte Jack said:
It was a tough tour, but an experience that I enjoyed. We play a key role in giving all the other units what they need to do their jobs. We found ourselves in some difficult situations, but training takes over, the guys around you are awesome and I have made some very deep friendships.
It's a massive honour that the Princess Royal has taken time to come and present our medals and a real boost to everyone's morale," he added.
Published 15 June 2011