News story
Airborne medics put through their paces
From infected insect bites to gunshot wounds, medics have been practising treating injuries they may have to deal with on operations.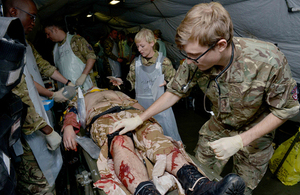 Exercise Serpent's Anvil has tested the techniques and the high-tech, lightweight equipment that 16 Medical Regiment would use to provide medical care as part of the Air Assault Task Force – the British Army's rapid reaction force.
The training saw Colchester's Friday Woods stand in for a fictional African country where British troops have been deployed to help bring stability in the face of an insurgent threat.
Within an hour of arriving, the medics had set up a tented treatment facility and received their first casualties.
Within 3 hours the unit was running at full capability, with a resuscitation suite, operating theatre, intensive care beds, a holding ward and primary care facilities.
Across the week-long exercise the medics received a steady stream of simulated casualties, including injured soldiers evacuated from the battlefield by an RAF Merlin helicopter.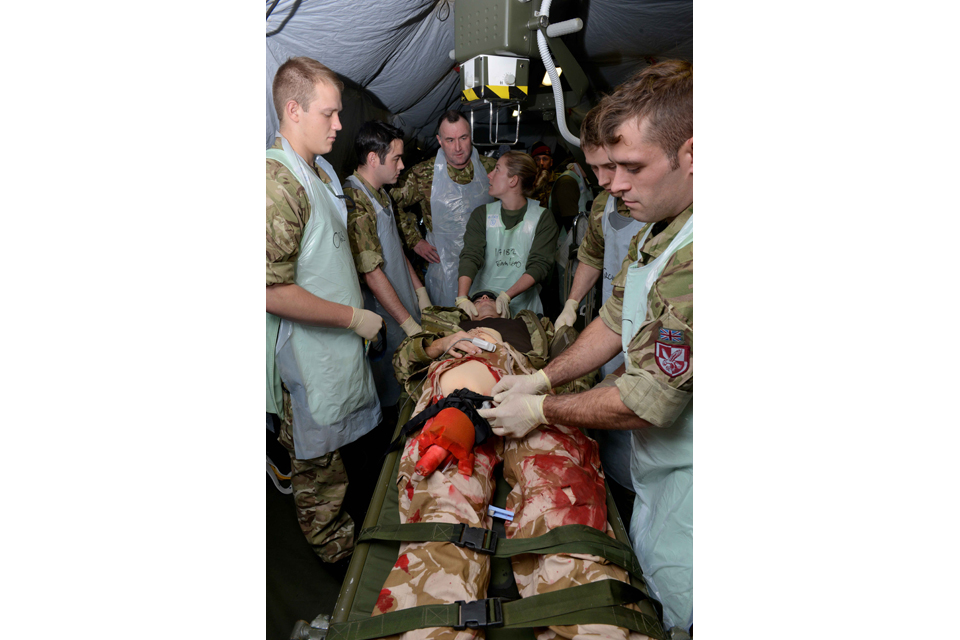 As well as their medical skills, the troops were challenged on logistics, securing the hospital and living in the field.
Major Alex Woodward-Court, Officer Commanding 19 Medical Squadron, said:
Our role is to provide lifesaving care to casualties and give ongoing treatment until they can be evacuated back to larger and more capable hospitals. This exercise is all about ensuring our skills are up to speed so that we are ready to deploy on operations.

My soldiers have performed brilliantly. We've been working round the clock in cold and damp conditions, but every casualty who has come in has received the first rate medical care that I would expect.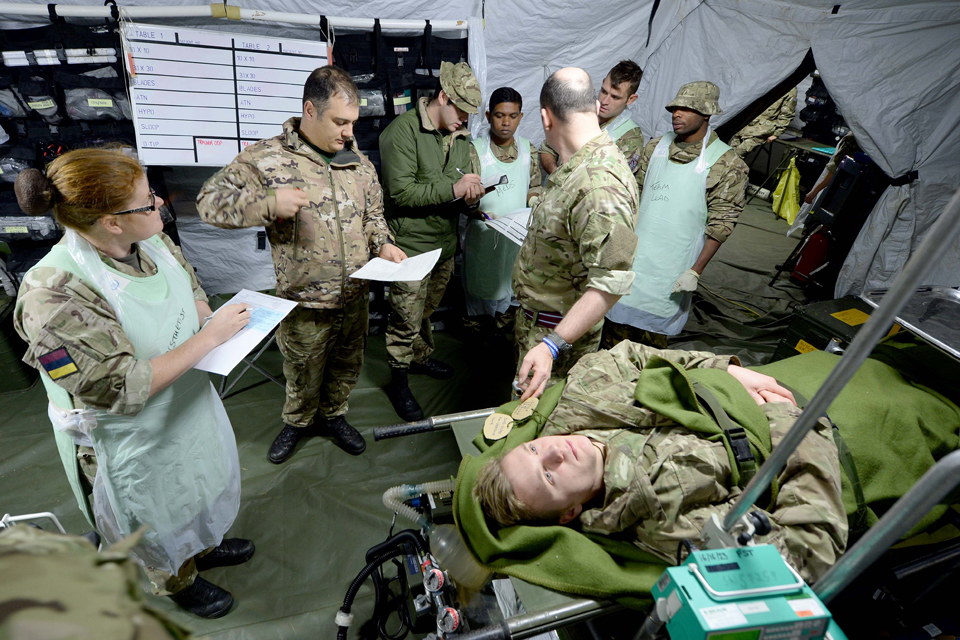 Private Cameron Ronaldson said:
This is only my second week with the regiment and it's great to get out on an exercise so soon. I've been able to apply the skills that I've learnt in training and prove myself to everyone.

I'm working in primary healthcare – which is the walking wounded area of the hospital – and we've had everything from minor burns and insect bites to cases of diarrhoea and vomiting to deal with.
Private William Blayden works in the resuscitation suite, which receives serious casualties, and assesses the treatment they need. He said:
The volume and variety of patients we've had to deal with has really put us under a lot of pressure. It's tested our existing skills and training, but we've also learnt a lot about how to operate together as a team.
Published 16 December 2013