Airborne Forces celebrate 70th anniversary
The open day featured most elements of 16 Air Assault Brigade including The Band of The Parachute Regiment and the Pipes and Drums of The Royal…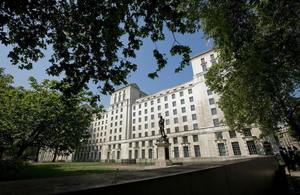 The open day featured most elements of 16 Air Assault Brigade including The Band of The Parachute Regiment and the Pipes and Drums of The Royal Irish Regiment, a beating retreat ceremony, and flypasts by an Apache and a Second World War Spitfire.
There was also a parachute display by The Parachute Regiment's freefall team, 'The Red Devils'. Dignitaries were also able to enjoy a cocktail party in the Officers' Mess.
The traditional birthday of the Airborne Forces is recognised as 22 June 1940, the day on which Sir Winston Churchill signed the memorandum calling for a force of 5,000 paratroopers.
Today, the Colchester-based 16 Air Assault Brigade is the modern embodiment of the original Airborne Forces, with two battalions of paratroopers as well as airborne engineer, signal, medical, logistic and artillery units.
The brigade is also composed of three helicopter regiments and has particularly close ties to the Royal Air Force. This special relationship was signified by a dedication ceremony of the 'gate guardian' to Merville Barracks, a Second World War DC-3 Dakota.
The Commander of 16 Air Assault Brigade, Brigadier James Chiswell, said:
Today's 7,000 soldiers of 16 Air Assault Brigade are the direct descendants of Churchill's vision - an airborne capability which goes well beyond paratroops and includes air assault forces deliverable by helicopter or aircraft and supported by the formidable Apache attack helicopter.
He also said that as well as celebrating the anniversary, the day provided an:
Airborne get together before the brigade deploys to Afghanistan for the fourth time. It is an opportunity to celebrate in a genuine family atmosphere and wish luck to those who are deploying.
Published 27 July 2010