Airborne engineers test rapid reaction skills
Exercise Eagle Sapper has tested the skills of Woodbridge-based 23 Engineer Regiment (Air Assault) as engineers first and soldiers second. …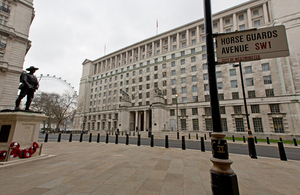 Exercise Eagle Sapper has tested the skills of Woodbridge-based 23 Engineer Regiment (Air Assault) as engineers first and soldiers second.
The training has seen troops challenged to break out of the Afghanistan mindset and return to their core role of providing engineering support to airborne forces.
This has meant swapping working with vehicles and living in permanent bases to living out of rucksacks and operating with engineering equipment designed to be dropped by parachute and manhandled.
During the exercise, which has taken place across East Anglia, troops polished their infantry skills on the ranges at Thetford and practised their core engineering abilities while living out in the field and marching more than 40 miles (64km) carrying rucksacks weighing up to 110 pounds (50kg).
See the gallery at Related News for more pictures from the exercise.
On Wednesday, 7 March, 51 Parachute Squadron Royal Engineers was at Waterbeach Barracks near Cambridge after an overnight tab - a fast march carrying rucksacks - from Ely.
The sappers built a water point capable of supplying the daily needs of 1,500 people, built a bridge capable of carrying a Challenger 2 main battle tank and repaired simulated bomb damage to an airfield.
Lieutenant Colonel Jason Hones, Commanding Officer of 23 Engineer Regiment (Air Assault), said:
This has been an arduous exercise that has taken my soldiers back to basics and their core role as airborne sappers. All aspects of their combat engineering and soldiering skills have been tested.

The lessons learnt from this exercise will shape how we perform our role within the British Army's high readiness contingency force.
The Airborne Task Force (ABTF) sees 16 Air Assault Brigade maintain a force ready to deploy anywhere in the world at short notice. 23 Engineer Regiment (Air Assault) provides close combat engineering support to the ABTF, allowing it to fight, move and live.
Sapper Joe Small, who served in Afghanistan last year, said that the exercise had been 'tough, but a good lesson in a different way of working':
It's very different to Afghanistan, where we lived in forward operating bases and went on planned operations. Contingency operations are about living in the field and doing our job as engineers with the kit we can carry ourselves.
We need your help! We are trying out designs for a new single website for all of government and we'd love your feedback. Please visit the 'Government beta site' by clicking on the link under Related Links.
Published 12 March 2012