Air Cadet of 69 years helps organisation celebrate its 70th birthday
After training more than a staggering 1,000 young cadets to fly solo, one of the Air Cadets' longest-serving members played a key role in the organisation's historic 70th anniversary celebrations last week.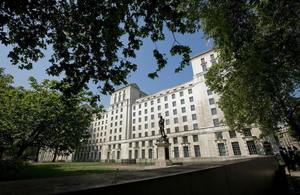 It's been a long journey for Group Captain Bill Walker, aged 82, of the Training Branch of the Royal Air Force Volunteer Reserve, who began his cadet career in 1942 with the Air Training Corps (ATC).
Joining the organisation just a year after its inception, Group Captain Walker started his career in light blue at 1707 (Dundee) Squadron.
Group Captain Walker has continued his affinity with the Air Cadets ever since, going on to hold several different roles, many of which featured within the Air Cadet gliding fraternity - recognised as the largest gliding organisation in the world.
Last week Group Captain Walker joined fellow Air Cadet Organisation (ACO) members, the Secretary of State for Defence, Dr Liam Fox, and supporters in celebrating the 70th anniversary of the Air Training Corps at a dinner held at the House of Commons.
A letter from the Prime Minister, David Cameron, was read out to the gathered audience.
Few at the function had such a varied and long CV of their time with the Air Cadets as Group Captain Walker, who has travelled the length and breadth of the UK in his 69 years of service.
It is that sort of dedication to the cause that has seen him fly in every glider that the ACO has ever had - an achievement which few will ever match.
He said:
I started out flying a primary glider, it was just like flying a five-bar gate with wings, there was no fuselage, just a seat with wings. We would get up to about 100 feet [30m] on a bungee or winch launch. That set me off and I simply wanted to fly.
Then I saw David Niven and Errol Flynn in the 1938 film 'Dawn Patrol' and I joined the ATC and went on to spend a total of nine years in full-time regular RAF service. I did my National Service with tours in the Middle East and later started the new Central Gliding School as a Flight Lieutenant. I loved every minute.
Outside of the Air Cadets, Group Captain Walker has held prestigious roles in the world of aviation, including Vice President of the British Gliding Association, a role which would later help him become President of Air Cadet Gliding.
He was also an MP for 18 years and a television presenter.
In 1997 he was appointed as an Officer of the Order of the British Empire (OBE) and more recently made history in the Air Cadets, becoming the first officer in the Training Branch of the RAF Volunteer Reserve to achieve the rank of Group Captain.
The ACO hopes to expand to 50,000 cadets by 2018 when the RAF will celebrate its 100th anniversary.
Published 2 June 2011