Press release
'Aid workers should never be targets' - Priti Patel
International Development Secretary pays tribute to aid workers from across the UK and around the world, on World Humanitarian Day.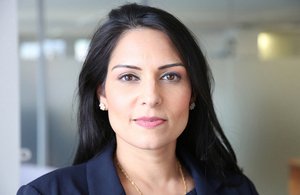 Today, 19 August, is World Humanitarian Day. Thanking aid workers from across the UK and around the world, International Development Secretary, Priti Patel, said:
Today we thank the men and women who demonstrate the goodness of humanity in places shadowed by despair, poverty and violence. They selflessly choose to try and make a difference by delivering food, shelter and medicine to people whom have been denied the most basic of human necessities.

These extremely brave humanitarian heroes represent the best of us, while those who attack them represent the opposite.

As we remember those who have unfairly lost their lives doing this incredible work, I want to thank those who continue to take the risks which allow the UK to stand tall with pride and make the lives of so many better.

Aid workers should never be targets. Every effort should always be made to give them full access to disaster areas and the protection they need to do their life-saving work.
Background
On 19 August 2003, a terrorist attack hit the United Nations headquarters in Baghdad, killing 22 people.
Five years later, the UN General Assembly adopted a resolution designating 19 August as World Humanitarian Day (WHD). Every year since then, the humanitarian community has organized global campaigns to commemorate WHD, advocating for the safety and security of humanitarian aid workers, and for the survival, well-being and dignity of people affected by crises.
For WHD 2017, humanitarian partners are coming together to reaffirm that civilians caught in conflict are #NotATarget.
ENDS
General media queries
Follow the DFID Media office on Twitter - @DFID_Press
Published 19 August 2017