Press release
Aid agencies improving value for money for UK taxpayer
In an update of the Multilateral Aid Review DFID finds all organisations have made progress against reform priorities.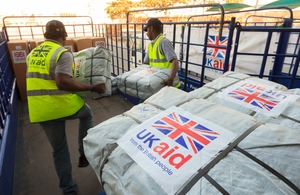 A review of the performance of multilateral aid agencies by the Department of International Development (DFID) has found evidence of improvement and reform.
In an update of the Multilateral Aid Review (MAR) 2011, DFID found that all 37 organisations assessed have made progress against agreed reform priorities. This includes 4 organisations placed in 'special measures' in 2011 which were required to make urgent improvements in order to continue receiving core funding support and other multilaterals which were already doing well making further progress.
In assessing whether the multilateral organisations have made the progress DFID asked for, the MAR Update found significant improvements in crucial areas such as the management of finances and how organisations work with others. However, not all organisations made the progress expected of them and ministers have called for more decisive improvement in low performance areas.
International Development Secretary Justine Greening said:
"I have been clear that all of the organisations DFID funds must deliver real value for money for the British taxpayer. The MAR update process is essential to ensure these multilaterals continue to improve and play a key role in reducing poverty around the world and in emergencies.
"Progress made by the multilaterals against the reform priorities set out by the Coalition has been steady, but there is still room for improvement. It is disappointing that some organisations have not made the changes we expected of them and they must take action to remedy this. We work hard to get results and we expect our partners to do so too. If under-performing programmes do not improve we are prepared to take decisions to end our funding.
"We will continue to work closely with the multilaterals to ensure every pound of our budget has the greatest possible impact on the lives of millions of poor people around the world."
A full review of all multilateral agencies which DFID continues to fund will take place in 2015.
Notes to editors:
The MAR Update Driving reform to achieve multilateral effectiveness is available here
In 2011 the UK Coalition government published the Multilateral Aid Review a systematic assessment of the performance of the 43 multilateral organisations that the UK funds for development
General media queries
Follow the DFID Media office on Twitter - @DFID_Press
Published 11 December 2013