African ambassadors visit climate research centre
A delegation of African Ambassadors learnt about cutting-edge British climate science and modelling during a visit to the Met Office with Minister for Africa Henry Bellingham.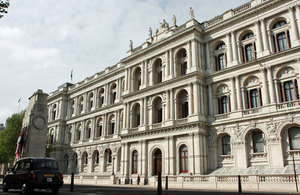 The visit, arranged by the Foreign and Commonwealth Office on 27 October, highlighted the world-leading climate research carried out at the Met Office Hadley Centre and underlined to the delegation the importance of governments working together to secure a legally binding climate agreement. A failure to limit global temperature rises to two degrees Celsius or less would have a profound impact on Africa; a continent which despite only producing 4% of global emissions, faces a heightened risk from the impacts of climate change. The Minister was accompanied by representatives from South Africa, Ghana, Senegal, Zambia, Lesotho, Rwanda, Malawi, Egypt, Ethiopia, Tanzania, Cameroon, Sudan and Zimbabwe.
Speaking at the Hadley Centre, Henry Bellingham said:
"As the Minister with the privilege of covering both Africa and climate change, I am already painfully aware of some of the difficulties Africa is facing today caused by changes in climate. Year-by-year the snows of Kilimanjaro recede; Lake Chad is now one tenth of its original size; and droughts in the Horn of Africa are once again claiming lives. But I am also aware of the incredible potential for poverty reduction and prosperity in Africa, and it is timely and fitting that COP17 will be held in an African city. I'm sure that the expertise of the Met Office Hadley Centre will be of immense interest to the visiting Ambassadors today."
Met Office Chief Executive John Hirst said: "We were pleased to welcome Mr Bellingham and the African Ambassadors to the Met Office to learn more about our world-leading science and operational capabilities. In particular, we illustrated our work to strengthen partner national met services. These capacity development projects help deliver sustainable early warnings of severe weather and increase resilience to future climate change."
The Met Office plays an active role in African outreach, data collection and capacity building on climate issues. Current projects include establishing a small Automatic Weather Station Network, and building capacity within the Meteorological Department of Sierra Leone. The Met Office is also supporting fellowships for staff from developing country National Meteorological Services to attend the MSc Meteorology programme at Reading University. Participants on the course have included representatives from Cameroon, Lesotho, Uganda and Zimbabwe.
Published 28 October 2011