Afghanistan progress report for September 2012
Foreign Secretary William Hague has updated Parliament on progress in Afghanistan during September.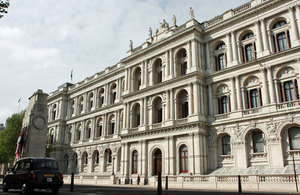 In a written statement to Parliament the Foreign Secretary said:
I wish to inform the House that the Foreign and Commonwealth Office, together with the Ministry of Defence and the Department for International Development, is today publishing the twenty first progress report on developments in Afghanistan since November 2010.
September has been a sombre month for British forces in Afghanistan. The loss of eight members of our Armed Forces has been keenly felt. We offer our deepest sympathies to the family and friends of those who have died and pay tribute to their bravery. They will never be forgotten.
The attack on Camp Bastion reminded us that we face a determined enemy in Afghanistan and we must expect challenges ahead. But tangible progress continues to be made as we work with the ANSF towards delivering our shared security objectives. Transition is working well and gathering pace. In part this is because of the increasing strength, confidence and capability of the ANSF. With the help of UK and ISAF forces, they are steadily developing into capable and professional forces.
We continue to work closely with ISAF and our Afghan partners to mitigate the threat of insider attacks. Vetting and screening of recruits to the ANSF is getting stronger. Counter-intelligence efforts have been stepped up. Cultural awareness training has been intensified. The surveillance and monitoring of Afghan forces deemed to be at risk has been increased.
Insider attacks remain the exception. The overwhelming majority of our forces work well with their Afghan colleagues. The ANSF are increasingly in the frontline in combating the insurgency and they too face the insider threat. We will not allow these terrible incidents to detract from the very real progress which has been, and continues to be, made in Afghanistan. Nor will we let them derail our strategy or our commitment to the mission, while taking steps to reduce the threats to the absolute minimum.
The UK Government continued efforts to promote women's rights in Afghanistan and ensure women have the opportunity to take decisions that affect their own lives. We continued to promote sustainable development in Helmand, by supporting community led development projects, including the building of a major health clinic and repairs to schools and canals. The UK is also helping the provincial government in Helmand to access national government finance and encourage international partners, public and private, to work in Helmand up to and after transition. This will help to ensure that development gains in Helmand endure.
We continue to support an Afghan-led political process to support peace and stability to Afghanistan. We agree with the Afghan Government that there is a role in this process for all Afghan groups that renounce violence, split from international terrorism and respect the Afghan constitutional framework. We recognise the way forward will be challenging but we are committed to supporting the Afghan Government's efforts.
Published 2 November 2012