Afghanistan operational air update 7 January 2012
RAF, Royal Navy and Army Air Corps personnel conducted numerous missions across southern Afghanistan from 1 to 7 January 2012. Here follows an operational update.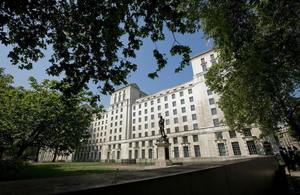 Air Mobility and Lift
The VC10s of 101 Squadron got off to a good start in 2012, successfully completing all of their planned missions. Supporting a wide variety of coalition aircraft they delivered 80 tonnes of fuel. The list of aircraft serviced includes French Mirage 2000s, UK Tornado GR4s and a number of US Navy aircraft made up of F-18s and EA-6B Prowlers. This was critical to ensuring that coalition air power delivered armed overwatch, shows of force or close air support to troops on the ground across Afghanistan.
Attack
The Tornado GR4s of 12 (Bomber) Squadron, operating from 904 Expeditionary Air Wing at Kandahar, began 2012 with what could be considered a return to their normal levels of tasking following the surge periods in the last two weeks of 2011.
The exception to this was on New Year's Day which saw the Kandahar Air Wing of the Afghan Air Force (AAF) hold their third annual Open House.
A GR4 was put on static display while approximately 500-700 local schoolchildren and elders were invited to come and visit the flight line. The visit included briefs on the developing capabilities of the AAF and how they are working with coalition air forces to build a stable and secure Afghanistan. Children and elders were provided with the opportunity to talk to the Officer Commanding 12 (Bomber) Squadron and the Executive Officer.
On the operational front, the GR4s launched twice from their ground alert close air support posture to provide armed overwatch for ground-based activity.
Additionally, they were requested to undertake a show of force during one of their close air support missions. The show of force was requested by US ground forces operating in Paktika province who had been engaged by insurgents on a ridge line overlooking them. The low-altitude, high-speed pass was sufficient to deter any further engagement by the insurgents.
The squadron also undertook a number of missions to collect data on points of interest, which provides essential intelligence in support of ground commanders. The flexibility of the GR4 came to the fore when during a reconnaissance mission it received higher priority tasking to provide armed overwatch in support of UK ground forces.
Intelligence and Situational Awareness
The Sentinel R1 aircraft of 5 (Army Cooperation) Squadron continued to support operations in Afghanistan. Primarily, their tasking was in support of operations being undertaken across Regional Command (South West). The majority of the activity was to provide pattern of life data in support of a number of disparate operations led by the US Marines of Task Force Leatherneck and UK ground forces operating as part of Task Force Helmand.
Additionally, Sentinel also provided a number of intelligence, surveillance and reconnaissance products in support of operations in Regional Command (East). The Sentinel's Ground Moving Target Indicator function continues to be highly sought after and saw 5 (Army Cooperation) Squadron fly approximately 40 hours.
The 39 Squadron Reaper detachment, operating from Kandahar Airfield, began 2012 with the continued provision of detailed imagery and intelligence crucial to ground commanders. In the first week of this year they delivered over 150 hours of full motion video (FMV). The FMV products are used extensively by ground forces operating as part of Task Force Helmand and the US Marines of Task Force Leatherneck.
Joint Helicopter Force (Afghanistan)
There was no Christmas respite for Joint Helicopter Force (Afghanistan). Deliberate operations and frameworked tasking continued throughout the festive season. Continual support was provided to theatre troops, with over 20 deliberate operations, and the movement of Commander Task Force Helmand visiting the deployed troops.
Published 16 January 2012