Afghanistan operational air update 31 December
RAF, Royal Navy and Army Air Corps personnel conducted numerous missions across southern Afghanistan from 18-31 December 2011. Here follows an operational update.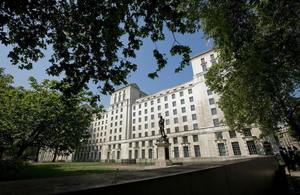 Air Mobility and Lift
In the last two weeks of December the VC10s of 101 Squadron successfully completed all of their planned missions, delivering 130 tonnes of fuel to coalition aircraft. The majority of this fuel was delivered to the Tornado GR4s of 12 (Bomber) Squadron, with the remainder going to French and Italian aircraft.
The last few days of 2011 were an intense period in which fuel was primarily delivered to F-18s of the US Navy. This was critical to ensuring that coalition air power delivered armed overwatch and 'shows of force' or close air support to troops on the ground across Afghanistan.
Intelligence and Situational Awareness
The 39 Squadron Reaper detachment, operating from Kandahar Airfield, continued to provide the detailed imagery and intelligence crucial to ground commanders and delivered over 300 hours of full motion video (FMV) during the period.
This rounds off what has been a particularly busy year for the Reaper Remotely Piloted Air System, which has flown more than 1,200 missions in the skies over Afghanistan. Not only has Reaper delivered key successes against insurgents through kinetic strikes it has also delivered over 11,000 hours of FMV in total which has been critical to the continued success on the ground as we move towards transition.
The Sentinel R1 aircraft of 5 (Army Cooperation) Squadron continued to support operations in Afghanistan, primarily across Regional Command (South West). The majority of the activity was to provide pattern of life data in support of a number of disparate operations led by the US Marines of Task Force Leatherneck and UK ground forces operating as part of Task Force Helmand.
The Sentinel's Ground Moving Target Indicator function continues to be highly sought after, with no let up in the Christmas and New Year period resulting in over 90 hours being flown.
The Royal Navy's Sea King Airborne Surveillance and Control (SKASaC) helicopters, operating as part of 903 Expeditionary Air Wing (EAW) at Camp Bastion, had a very successful final two weeks of 2011, flying more than 60 operational hours.
One of the key successes resulted in the detention of an insurgent along with a sizeable quantity of heroin. The continued development of tactics and procedures has seen the SKASaCs integrate into any force package and become a key element within a layered Intelligence, Surveillance, Target Acquisition and Reconnaissance ethos.
The Tornado GR4s of 12 (Bomber) Squadron, operating from 904 EAW at Kandahar, were exceptionally busy in the run up to Christmas and the New Year.
The outstanding all-weather capabilities of the GR4 were particularly important, with 12 Squadron covering extended periods of Ground Alert Close Air Support. During this time they were launched on four occasions to provide armed support to troops on the ground which had been engaged by insurgents and armed overwatch to a number of other ground-based activities.
Additionally, the crew of a GR4 displayed great tactical patience to engage a vehicle carrying homemade explosives. Their exceptional airmanship in difficult conditions ensured a successful kinetic strike was carried out.
In the final week of 2011 the GR4s carried out three 'shows of force' in support of coalition ground forces. The first was in support of US troops who had observed two insurgents on motorbikes preparing for an attack in Paktika province. The second was again in support of US troops west of Kandahar, where it was used to disrupt potential insurgent activity. The final show of force was requested by Italian troops to support a convoy. All of these shows of force successfully deterred or disrupted enemy action.
Additionally, the squadron undertook seven reconnaissance missions, collecting data on more than 1,600 points of interest which proved essential in the support of ground commanders.
Published 6 January 2012