Afghanistan operational air update 30 October 2011
RAF and Royal Navy personnel conducted numerous missions across southern Afghanistan last week, 24 to 30 October 2011. Here follows an operational update.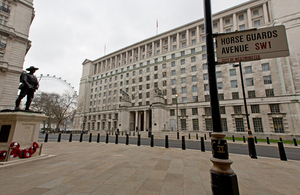 Air Mobility and Lift
The 101 Squadron VC10 detachment at 902 Expeditionary Air Wing maintained their operational momentum, providing endurance-extending fuel to the full range of coalition fast jets, including US F/A-18 Hornets and EA-6B Prowlers.
During October, the VC10 fleet delivered almost 500 tonnes of fuel to ISAF jets, usually right overhead the action on the ground.
On one mission last week, the VC10 crew had to come on task early to fuel a pair of F/A-18 Hornets that were providing armed overwatch to coalition troops on the ground. This was due to a fuel transfer issue with another coalition air-to-air refuelling aircraft.
With some careful calculations by the crew, the VC10 was able to satisfy the needs of various 'customers' and stayed on task for an additional period to ensure the F/A-18s could provide the cover required.
Intelligence, Surveillance, Target Acquisition & Reconnaissance
The operational tempo for the Royal Navy Sea King Airborne Surveillance and Control (SKASaC) helicopters flying with 903 Expeditionary Air Wing continued, with support to US Marine Corps personnel of Task Force Leatherneck and UK ground forces.
Despite moving their area of operations to a more challenging environment in Helmand, the tactics, techniques and procedures developed in the western desert areas are proving to be both robust and flexible, ensuring a smooth transition to new operating areas.
Last week saw the SKASaC helicopter crews and analysts provide 22 separate intelligence, surveillance and reconnaissance products.
The feedback from Task Force Helmand on the quality of the products delivered by the SKASaC helicopters has been excellent and it is very clear that it is having a psychological impact on the insurgents and their freedom to move in the area.
In the final weeks of their detachment, there is no let-up in tasking for the Tornado GR4s of 31 Squadron, operating from 904 Expeditionary Air Wing at Kandahar.
Their tasking has seen them operate across the length and breadth of southern Afghanistan but primarily in support of Regional Command (South West) and the US Marine Corps as part of Task Force Leatherneck.
Using their RAPTOR reconnaissance pods, the GR4s achieved 100 per cent capture of their tasked 'points of interest' for detailed analysis by the Tactical Imagery-Intelligence Wing and forward delivery to ground force commanders.
Additionally, the GR4s delivered three 'shows of presence' and one 'show of force', with each of these satisfying the ground commanders' intent and therefore requiring no further escalation by the 31 Squadron crews.
Last week highlighted the close working relations between the Joint Tactical Air Controllers on the ground and the robust processes used to ensure successful engagement of targets by the Reapers of 39 Squadron.
Notably there were two key successes at opposite ends of the spectrum. Whilst tracking an insurgent on a motorbike carrying a suspicious package, the crew of a Reaper suspected that the 'package' might be a small child.
Showing outstanding courageous restraint the crew used replay facilities to provide sufficient evidence to delay and subsequently terminate the attack.
When the motorbike finally stopped at a residential compound the action of the crew was fully justified when a small child got off.
In a separate incident, a single Hellfire missile was used to great effect on a group of insurgents which resulted in seven of them being killed in action.
Joint Helicopter Force (Afghanistan) [JHF(A)]
A steady week in JHF(A) saw staff being called upon to provide assistance at Lashkar Gar Training College. Personnel were dispatched to provide mentoring and training to soldiers running its helicopter landing site.
Published 2 November 2011