Afghanistan operational air update 11 February 2012
RAF personnel conducted numerous missions across southern Afghanistan from 5 to 11 February 2012. Here follows an operational update.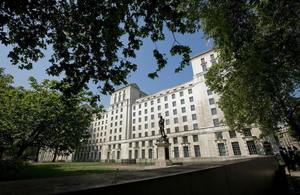 Air Mobility and Lift
The VC10s of 101 Squadron had another excellent week - they not only completed all of their planned missions but their offload of fuel was almost 140 tonnes.
Thorough planning and flexibility ensured that this was delivered to a range of coalition aircraft. The main receivers continue to be from the US Navy, utilising the 'probe and drogue' capability of the VC10, with deliveries to a number of variants of the F-18.
The rest of the deliveries saw fuel being delivered to RAF Tornado GR4s and EA-6B Prowlers of the US Navy. This was critical to ensuring that coalition airpower delivered armed overwatch, shows of force and close air support to troops on the ground across Afghanistan.
Attack
The Tornado GR4s of 12 (Bomber) Squadron, operating from 904 Expeditionary Air Wing at Kandahar, continued to deliver their key capabilities in support of a number of coalition ground forces.
The week began with a show of force in support of British ground forces operating in Helmand province who had come under small arms fire in the vicinity of a compound. This was sufficient to deter any further engagement by the insurgents.
Later in the week the GR4s were called on to deliver a show of presence when coalition troops were operating in an area where the potential for engagement with insurgents was considered to be high and an unidentified group began to gather.
And, once again, the squadron undertook a number of successful reconnaissance missions to collect data on points of interest, providing essential intelligence in support of ground commanders.
Intelligence and Situational Awareness
The Sentinel R1 aircraft of 5 (Army Cooperation) Squadron continued to keep a watchful eye on ground activity in Afghanistan and quickly report any new activity to ground commanders. The tactical flexibility of the aircraft and its crew have seen it operate across Regional Command (South West) and Regional Command (East) to great effect.
The majority of the activity was to provide pattern of life data in support of a number of disparate operations led by the US Marine Corps of Task Force Leatherneck and UK ground forces operating as part of Task Force Helmand, accumulating more than 30 flying hours.
The 39 Squadron Reaper detachment, operating from Kandahar Airfield, continued to provide detailed imagery and intelligence crucial to ground commanders, delivering approximately 240 hours of full-motion video (FMV).
The FMV products are used extensively by ground forces operating as part of Task Force Helmand and the US Marine Corps of Task Force Leatherneck. One kinetic strike was carried out against a number of insurgents who were preparing an attack against coalition ground forces.
This successful strike not only terminated their activities but also destroyed a significant number of IEDs which had been prepared for use. In addition, a rocket-propelled grenade launcher and rockets were later recovered.
Published 17 February 2012