Afghanistan operational air update
RAF and Royal Navy personnel conducted numerous missions across southern Afghanistan in the week of 26 September to 2 October 2011. Here follows an operational update.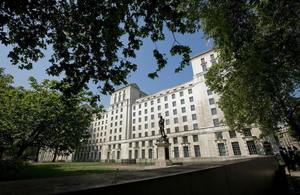 Attack
The Kandahar-based Reapers of 39 Squadron were engaged in operations that again necessitated Hellfire missile strikes. Displaying considerable tactical restraint, the Reaper crews successfully countered the insurgents' best efforts to seek cover among civilians and along tree lines.
In addition, they provided almost 300 hours of detailed video imagery and other reconnaissance, all contributing to the improving security situation and protecting the populace in the area.
Air mobility and lift
The VC10 aircraft of 101 Squadron, detached to 902 Expeditionary Air Wing (EAW), continue to provide direct support to an array of coalition fast jets, with their twin-hose configuration being used to great effect to deliver 120 tonnes of fuel.
This takes the total fuel delivered for September 2011 to 386 tonnes, a capability which enabled coalition fast jets to remain on task for extended periods.
On one mission, two pairs of coalition aircraft took turns to receive fuel while the other provided close air support, thereby ensuring that the troops engaged by insurgents had the best cover possible.
Intelligence and situational awareness
The Tornado GR4s of 31 Squadron, operating alongside 903 EAW at Kandahar Airfield, continue to provide a highly influential presence in Afghanistan.
They conducted ten shows of force across the breadth of southern Afghanistan from Regional Command [RC] (West) to RC (East), not only in support of UK troops but also coalition partners, including American and Italian units.
The imagery capabilities provided by the GR4's RAPTOR and Litening III pods continue to be used to survey patrol routes and helicopter landing sites in the south west of the country.
And the Royal Navy's Sea King Mk7 Airborne Surveillance and Control (SKASaC) helicopters, operating from 903 EAW's base at Camp Bastion, have been pivotal in the successful detention of key insurgents in Helmand province.
Whilst supporting the US Marines of the 2nd Light Armoured Reconnaissance Battalion (2nd LAR), one SKASaC helicopter crew detected and tracked a suspicious vehicle using their cutting-edge ground moving target indication radar.
By sharing their information with other coalition reconnaissance aircraft, 2nd LAR were able to intercept and capture two experienced insurgent bomb-makers.
Published 6 October 2011