Afghanistan: Monthly Progress Report March 2011
Foreign Secretary William Hague has updated Parliament on the progress made in Afghanistan during March.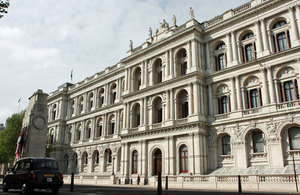 In a written statement to Parliament the Foreign Secretary said:
Progress across the political and security spectrum was, by and large, positive in March. The continuing rise in the number of weapons caches found, the attack on the UN compound in Mazar e Sharif on 1 April and other protests against the burning of the Koran in the US, are clear signs however that the insurgency remains a serious threat to stability in Afghanistan.
President Karzai repeated his invitation to the Taliban to return to peaceful Afghan society. He invited "all Afghanistan's neighbours and in particular officials in the Islamic Republic of Pakistan to give their full and cordial support to our efforts for peace and reconciliation".
UN Security Council Resolution 1974 renewed the mandate of the United Nations Assistance Mission (UNAMA) in Afghanistan on 22 March.
President Karzai announced the first seven provinces and urban districts to begin the process of transition to Afghan led security responsibility, the first step towards Afghanistan assuming full responsibility for its own security by the end of 2014. President Karzai's announcement on security transition was warmly welcomed by Afghans.
The Afghan National Army led an important operation in Helmand, clearing a route of improvised explosive devices and seriously disrupting the insurgency without the active support of International Security Assistance Forces.
The lack of an International Monetary Fund programme, which is used by the international community as an indicator of sound economic and financial management, remains a serious concern.
Published 3 May 2011