Afghanistan medal parade for Royal Anglian soldiers
Soldiers from 1st Battalion The Royal Anglian Regiment (1 R ANGLIAN) have received their Afghanistan Operational Service Medals.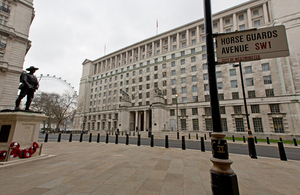 The medal parade held on 1 November was the first in a series of events marking the end of a demanding but successful six-month deployment to Afghanistan for 1 R ANGLIAN - known as the Vikings - as part of Task Force Helmand.
600 Vikings were on parade and those who had completed their first tour received their Operation HERRICK medals from Colonel of the Regiment, Major General Phil Jones, watched by colleagues, family members and friends at Picton Barracks, Bulford Camp, Wiltshire.
Private Michael Stewart, aged 21, from Ely in Cambridgeshire, was one of those to receive a medal:
It is brilliant, the best thing in the world getting the medal, and it really does mean a lot to me," he said.

It was an interesting tour and I really enjoyed it, there were some hard times and I missed my family, but everyone pulls together and we help each other through, and I would go back again.
1 R ANGLIAN's task was that of 'Transition Support Unit' in Nad 'Ali. The area it controlled was the largest in Task Force Helmand, both in size and numbers of troops.
Around 1,600 soldiers were spread across an area of approximately 300 square kilometres - about half the size of Salisbury Plain - and an estimated population of 150,000.
During their six-month tour, the Vikings found more than 150 improvised explosive devices (IEDs) which would otherwise have killed or wounded local nationals in the area.
They also detained 68 insurgents, who were captured along with 100kg of explosives for IEDs, 46 rifles, over 4,200 rounds of ammunition and more than 340kg of raw and processed heroin, destined to fund terrorism across Afghanistan.
The battalion's commanding officer, Lieutenant Colonel Mick Aston, said:
It has been a great day with all the families here after a really hard and challenging tour. The complexity of handing over a difficult but progressing security situation to the Afghan National Security Forces is something we had not done before.

We prepared well for it but it was not until we were on the ground we saw just how complex it was, and there were still elements of fighting that had to be done.
This is our fourth tour in Afghanistan and it draws to an end a 10-year involvement for the battalion in the country. Some of my soldiers have done four tours, some two or three, and they have all seen progress on a daily basis.
The battalion lost one soldier on this tour; Corporal Alex Guy was killed in action on 15 June. He was remembered at a memorial service earlier this week.
Lieutenant Colonel Aston said:
His loss was deeply felt by the battalion. He was a popular, committed, loyal and long-serving Viking and also a devoted family man and husband. We held a wonderful service in our local chapel that reflected on his sacrifice.
1st Battalion The Royal Anglian Regiment will conduct a series of homecoming parades, hosted by councils from its local recruiting areas, during the week beginning 5 November. The parades will take place in:
Ipswich on 5 November
Romford on 6 November
Diss on 7 November
Basildon on 8 November; and
Peterborough on 9 November.
Published 2 November 2012