Afghanistan Independence Day
Statement from DFID's Parliamentary Under Secretary for State Stephen O'Brien to mark the Independence Day of Afghanistan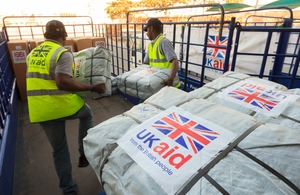 Today is Afghan Independence Day. To mark this occasion, DFID's Parliamentary Under Secretary for State Stephen O'Brien said:
"As Afghans today mark their country's Independence, we should celebrate Afghanistan's progress towards a better future for its people.
"This is a crucial year for the country. We have already seen the Afghan government host their own conference in Kabul in July on the future of the country, and sign up to an accelerated programme of measures to help the government take charge of its own affairs.
"Afghanistan has seen steady and impressive economic growth, with the economy growing by 22% last year and forecast to grow by 10% next year. And the average income in Afghanistan has nearly doubled since 2002.  But Afghanistan remains the second poorest country in the world, and big challenges remain.
"The UK will  continue to work with the Government of Afghanistan to build on the  success  with measures to stimulate the economy, and  to meet the challenges by helping to  improve security, political stability, and to help the government to deliver basic service for its people.
"In this way we will support them to provide a future for the Afghan people that is truly free: of insurgency, of poverty and of the scourge of corruption."
Published 19 August 2010