Afghanistan Celebrates One Year to Go To London 2012!
On 28 July, British Ambassador Sir William Patey joined Afghanistan's Olympic hopefuls to mark One Year to Go to London 2012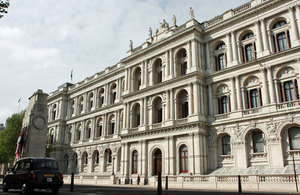 Sir William and the Afghan National Olympic president, General Zahir Aghbar watched - and even joined in with Afghan athletes as they trained!
Sir William said: "I was delighted that the Afghan National Olympic Committee invited me to join their Olympic hopefuls in celebrating One Year to Go until London 2012 on 28 July. It was fantastic to watch Afghan athletes preparing in taekwondo, boxing, judo, wrestling and track and field - I was even inspired to join them in a short sprint, and to play a short game of tennis with Afghan NOC President Zahir Aghbar.
"That sport is now an important part of Afghan society shows the enormous progress this country has made in recent years. Under the Taleban regime, Afghanistan did not even send a team. I am sure that few teams will be as warmly welcomed to London by the British public next year, as Afghanistan's."
Speaking in London, Foreign Secretary William Hague said: "The Foreign Office is playing a crucial part in telling the rest of the world what a great place the UK is to visit, do business and learn in the lead up to the Olympics and Paralympics. We are encouraging hundreds of thousands of visitors to find out about Games next year - it is going to be an incredible time in the UK and we are ready to welcome everybody. Events at our global network of posts are helping spread massages about the Games and I am pleased that Afghanistan is doing so much to promote the Olympics."
Afghanistan Celebrates One Year to Go London 2012
Published 31 July 2011