Afghanistan-bound reservist looks forward to first deployment
After volunteering for every tour since her promotion in 2009, Chartered Accountant Val O'Regan will be one of the 6,500 Service personnel deploying to Helmand with 4th Mechanized Brigade in October. Shell Daruwala reports.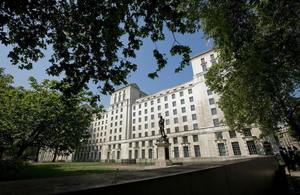 During Operation HERRICK 17 Lt O'Regan - an Army reservist with the Windsor-based 94 Signal Squadron, part of 39 Signal Regiment - will serve in the Task Force Headquarters at Camp Bastion, providing direct support to the Commander of 4th Mechanized Brigade (4 Mech Bde), Brigadier Bob Bruce, as he conducts regular high-level shuras with key members of the Afghan community:
My role is Key Leader Engagement," explained the 32-year-old. "I'll be going to a lot of meetings with the Brigadier. He'll be doing the talking and I'll basically be a PA.

Every time there's a shura, which is a meeting with the key leaders, whether it's a village elder or someone from the Afghan forces, I'll be going to the meeting, taking notes and documenting everything, and if there's any follow-on points, making sure those are picked up on, and then, if we meet them again we'll have a record to see how things are progressing.
Members of the Task Force holding lower-level meetings with members of the wider Helmand community will report back to Lt O'Regan so that she can provide the headquarters with an overview of the community engagement activities taking place across the province.
She is looking forward to the challenge, and to being present at some of the high-level meetings so important to the smooth transition process in Afghanistan:
Most people in the Army wouldn't have exposure to that, unless you're right at the top, so it'll be a very good role - I'm very excited about it.
An auditor for the large oil and gas company BG Group in her civilian life, this will be Lt O'Regan's first deployment in ten years as an Army reservist:
I did have opportunities to do Bosnia and Kosovo, but I was doing my accountancy exams at the time, so I had to put that on the back burner," she said. "Once those were out the way I started the process of going for officer. I made officer and have been volunteering ever since, hoping to get on a tour.
With junior officers, especially in the Signals, it's been quite hard to get a tour; they generally want captains and above, so I've been looking further afield, because you don't have to go as a Signals role, and I was prepared to do anything just to go and get the experience.
Lt O'Regan joined the Army Reserves in 2002 after her brother, who was already an Army reservist, persuaded her to 'come along' one night. But the keen swimmer and fitness fanatic said her original inspiration had come from a British Olympian some years before:
Back in '96 they were doing little snippets leading up to the Olympics, and they had Dame Kelly Holmes on, and she was saying that she was in the Army and it was very good for fitness," said Lt O'Regan.

I also really wanted to do an obstacle course," she added.
Six years later, she joined her brother at his Reserves unit to 'see what it's like, not expecting to sign up' - which that night she duly did.
Lt O'Regan said her civilian role shares similarities with the work of the military Task Force throughout the coming tour:
I guess it's kind of similar - it's not quite the secret police that everyone thinks it is," she said, referring to her job as a group auditor. "We look at all areas of the business and give them advice or point out areas they can improve on.

I guess that's what the Brigadier will be doing in the shuras - he'll give advice. [The Afghans] will ask for help or say 'we need this to do this or do that', and that's the role of the military - to advise them and to give them training on their roles, to support them going forward.
Lt O'Regan was exercising with 4 Mech Bde on Salisbury Plain last week, and said that the members of the brigade were in high spirits:
I think everyone is just itching to get out there now. The regulars have known about this for a long time and they've done a lot of training, and they just want to get out there and get on with the job.
She said that the training has been deliberately tough going for the troops involved:
The training we do is so much more intense than what would probably happen when you're out there, because they have to throw absolutely everything at you, and test you to your limits so by the time you get out there everything just flows and is quite a nice pace.
Lt O'Regan said that she hasn't been discriminated against as a reservist by her regular colleagues:
Generally they don't know … because we all look the same and we're all there doing our own individual jobs, I guess people don't really pick up on it," she said.

When they find out, people are generally quite interested and ask 'so what else do you do, what are your hobbies?' Well the TA [Territorial Army] takes up a lot of my time, so I guess it is kind of like a hobby, but it's a working hobby.
But the lieutenant has found explaining her military life to civilian colleagues and friends can be a challenge:
Many people don't understand," she said. "My company's been extremely supportive, but again it's that 'what exactly do you do?'
Lt O'Regan thinks there is a need to increase general awareness among employers of the Reserve Forces and the unique range of skills and experience that reservists are able to bring to their civilian roles:
Even explaining to my neighbours where I'm going and what I'm doing; generally people don't really understand. So I think we need to push it home a bit more, and change the culture," she said.

If you go to the States, everyone understands the National Guard - they're very pro, and companies love it, whereas here I think people are like 'ooh, what does that mean?' if you've got it on your CV, and 'ooh, are we going to lose you?' It will take a while to change that.
Published 28 August 2012