Afghanistan-bound army drivers reach top gear at Leconfield
Urgently-needed new facilities have been completed in Humberside in double-quick time to help provide vital training for military drivers heading out to the frontline in Afghanistan.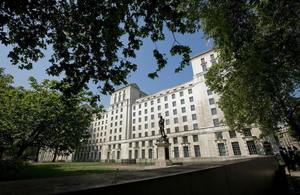 Defence Estates (DE), working with its regional industry partner CarillionEnterprise, has constructed classrooms, instructors' offices and Vehicle Storage Facilities (VSFs) at the Defence School of Transport (DST) in Leconfield, near Beverley.
An increase in demand for military driving training meant that the new facilities were needed urgently to support operations in Afghanistan. Responding to the Armed Forces needs, DE completed the works in only ten months.
Director General of Army Recruiting and Training, Major General Gerald Berragan, who recently opened the new facilities, said:
The delivery of these new facilities, which are vital to sustaining operational success in Afghanistan, has been impressively rapid and professional.
The initial design brief called for classrooms that would accommodate 200 students and instructors, offices for 60 instructors, and seven VSF buildings. However, during the design and development phase of the project, it was decided that three 'super-sized' VSF buildings would be more versatile.
DE Project Manager Rob Seymour, said:
Supporting our Armed Forces is the top priority for Defence Estates, particularly when what we deliver has a direct positive impact for troops on the ground in Afghanistan.
This project shows how well we can work with our partners to respond to urgent requirements. The whole integrated project team worked together to deliver the requirement on time, which ultimately resulted in better training for soldiers prior to their deployment.
DST Leconfield provides driver and transport management training to military personnel. It offers 114 different courses delivering transport management and operation training, with a throughput of approximately 16,000 trainees each year.
At any one time DST is able to train up to 1400 personnel - making it one of the largest residential driver training schools in the world. In addition to core training of military personnel, DST provides specialist training to the Police, Fire Service and overseas training for Defence Attaches.
Published 29 September 2010