Afghan youth celebrate annual Go Skateboarding Day
On 21 June, along with children all over the world, the kids of Kabul took to the streets to celebrate international Go Skateboarding Day.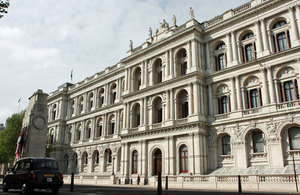 The day is an excuse for Kabuli youth to show their love of skateboarding, winding, grinding and ollieing their way through some of Kabul's oldest districts on a self-styled 'skate-a-thon.' But these children have done it their own way: they wore traditional clothing to represent the Afghan skate scene to the world. Shalwar khamis for the boys, and brightly coloured celebration clothes for the girls. Donkey carts were hired to carry drinking water for all the thirsty skate-a-thon participants. Some of the littlest skaters were able to hitch a ride.
After the skate-a-thon, participants convened at Skateistan Park, which is run by Skateistan, an Afghan NGO. There, the boys, girls and disabled skaters took part in a skateboarding contest and watched Afghan skate videos.
Abdul Qodous Amini of Skateistan told one of our press team at the event: 'Our aim of skating in the streets is to encourage other students to skate and to give the message to the world that Afghanistan is not only a place of fighting.'
Skateistan has over 350 girls and boys who attend its joint skateboarding/educational facility in Kabul. Close to half of its students are streetworking children who are provided with lessons and food by the NGO. Its website is at http://www.skateistan.org.
Whilst the surroundings don't resemble those of southern California, the freewheeling skateboarding spirit was alive and well in Kabul on 21 June.
Afghan youth celebrate annual go skateboarding day
Published 22 June 2011