Afghan village opens in Camp Bastion for training UK troops
The opening of the village coincides with the arrival of 16 Air Assault Brigade who are currently taking over from 4th Mechanized Brigade as…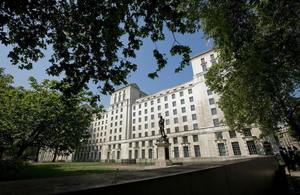 The opening of the village coincides with the arrival of 16 Air Assault Brigade who are currently taking over from 4th Mechanized Brigade as the lead formation of British troops in Helmand province.
The RSOI training phase is the final stage in a series of pre-deployment packages which personnel from all three Services must undertake before they deploy forward from Camp Bastion.
The new replica village will enhance this stage of training and provide personnel with the opportunity to hone their military skills before stepping out on the ground.
The village simulates life in an Afghan village with remarkable authenticity. The compounds have been built by Afghan craftsmen using local skills and materials. The village contains market stalls, workshops and a bazaar, all of which are populated by up to 50 locally employed Afghans who simulate the essential pattern of life by playing the part of local villagers.
As well as the villagers, there are also some permanent residents in the form of goats and chickens to provide added realism.
Lieutenant Colonel 'Didi' Wheeler, Commanding Officer of 2nd Battalion The Royal Welsh, the unit that is running the regulating headquarters, said:
The Afghan village is a new facility that has significantly enhanced our training. It really brings to life what soldiers will be seeing on their upcoming tour.

Rather than looking steely-eyed in depth, it's actually about engaging with the locals on the right and on the left as they patrol through; it gives the troops enormous confidence.
Up to 185 staff from the Operational Training and Advisory Group instruct on various topics at the village such as mobile patrols with the Afghan Army and Police, counter-improvised explosive device training, medical extraction and shuras (meetings with Afghan villagers), as well as close quarter battle ranges.
Colour Sergeant Needham, who runs the shura stand, said:
The shura is our link with the people. If we can get the guys all the way up the rank range interacting with the local population, I think 16 Brigade will be doing a great job.

By interacting with the locals we are getting them on our side by letting them know we're here to help.
Lieutenant Colonel Colin Weir, Commanding Officer of 1st Battalion The Royal Irish Regiment, who are among the first soldiers to use the new training facility, said:
The village is an exceptionally well-resourced capability and it's being used to its full effect.

It is much closer to the front line here. It's the correct environment in terms of the temperature; the men have got all the kit and equipment they will deploy with, and they're surrounded by local Afghan population, so it's quite exceptional.
Future development is planned for the village, including the cultivation of the land around the village to provide real Afghan crops, almost a mini 'Green Zone'. There are also plans to introduce vehicle checkpoints.
Published 1 October 2010