Afghan police take control of new checkpoint
Afghan police have taken control of a newly-built checkpoint in Babaji, Helmand province.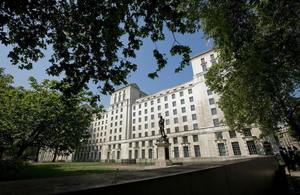 As the Afghan Uniform Police take the lead on crime prevention in Helmand province it is increasingly important that the infrastructure upon which they rely is sustainable post-transition.
The new checkpoint (CP), Samander, has been specially designed and built from local materials, using local methods of construction to enable easy repair.
The handover was attended by local elders, police officers and representatives of the Police Mentoring and Advisory Group, the 1st Battalion Welsh Guards.
The construction of the CP was managed by the Afghan Uniform Police with assistance provided by a mentoring group from the King's Royal Hussars.
Major Alex Michael, Officer Commanding C Squadron of the King's Royal Hussars, said:
It has been a tremendous success to see the Afghans develop their own infrastructure and provide a checkpoint made of materials easily and locally sourced.
Lieutenant Colonel Nigel Allison, who works within Task Force Helmand as Head of Stabilisation, said:
This type of CP build is the way forward. For the Afghans to be able to source the materials to build and repair the CPs is very important as they can maintain it into the future.
This concept is not only environmentally and culturally appropriate but also uses local workers, providing a stimulus to the local economy.
CP Samander will act as the prototype for further checkpoints as they are developed in other locations.
Published 24 April 2012