Afghan police intercept explosives-laden truck
The massive find resulted in the destruction of over 700kg of homemade explosives after police found a secret compartment hidden in the back…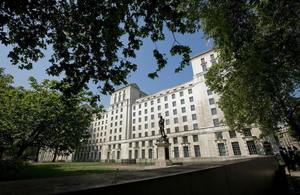 The massive find resulted in the destruction of over 700kg of homemade explosives after police found a secret compartment hidden in the back of the lorry.
The interception happened near Gereshk last week after the Afghan National Police stopped the suspicious vehicle at a checkpoint on Highway 1, a main transit route in the area.
Finding the back of the truck to be completely empty a closer investigation then revealed the hidden compartment in the back where the police found the haul of homemade explosives along with two pistols, a number of insurgent propaganda magazines and a significant amount of other IED components.
Lieutenant Colonel Shadi Khan, District Chief of Police, said:
I am very happy. This is a good day for the Afghan Police and the local population in Gereshk.
This find will give the people confidence that their police are up to the job in improving security.
The Afghan National Police are currently being mentored by troops from 1st Battalion The Princess of Wales's Royal Regiment who form the Police Mentoring and Advisory Group (PMAG) in central Helmand. The PMAG works closely with local police at precinct, district and provincial level. Significantly, on this occasion, the police were operating independently.
Lance Corporal Matthew Kim, part of the Police Advisory Team in Gereshk, said:
We only took over about a week ago, and I've already seen that the police here can get results. Hopefully we can continue this good work and maybe save more lives in the future.
Captain Stuart Horder is second-in-command of the team responsible for mentoring the District Police Commander. He said:
This find is significant. Not only does it remove a lot of capability from the insurgent bomb-makers, but it also reinforces the capability of the police in front of the population. From my position, it appears that the police are certainly moving in the right direction
The Afghan National Police's own EOD team destroyed the deadly contents of the truck. Captain Khan Muhammed and his team transported the explosives to a remote spot in the desert and destroyed them with a controlled explosion.
The Afghan National Police are looking to significantly develop their counter-IED capability to allow them to protect their own communities from this threat. One team in particular has responded to approximately 80 incidents in the past six months, and has cleared around 130 explosive devices from towns and villages in central Helmand.
Published 14 October 2011