Afghan police engage with youngsters in Helmand
The first Afghan Police community engagement event for youngsters and their families has attracted more than 200 children in an area once considered a stronghold of the insurgency in Helmand province, Afghanistan.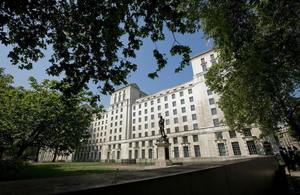 The event, organised by Afghan police and supported by members of the King's Royal Hussars and 1st Battalion Welsh Guards, provided an opportunity for the children of Babaji to meet and interact with the policemen responsible for their security.
The Babaji district of Helmand province was, until recently, a hotbed of insurgent activity until combined forces pushed them out. Describing the security improvement in the area, Captain Ben Figures-Wilson, the officer in charge of the Police Advisory Team, said:
When the Welsh Guards were last deployed to Afghanistan this area was virtually impassable. Any attempts to patrol through Babaji were met with heavy resistance. It is a testament to the combined efforts of the Afghan security forces and ISAF that today we can concentrate on community engagement initiatives of this kind.
Afghan Police Captain Esmerai, 8th Precinct Commander, hosted the event and explained the role of his policemen to the children and also how they should interact with them in the future.
Parents who attended also got the chance to ask questions about future security plans for the area.
Major Alex Michael, Officer Commanding C Squadron of the King's Royal Hussars, and Ian Connolly, a MOD Police mentor, spoke to the children and explained the importance of education and living within the law.
Major Michael said:
I wanted the children to understand that the gift of education should not be taken for granted. They are the future of this area and the security that is provided by the police force has enabled them to return to school.

The sheer number of children and parents in attendance demonstrated an appetite for stability that will allow the children of this area to prosper.
Ian Connolly said:
It is vitally important that children understand that the police are the good guys. An opportunity to interact with the local population in this way is invaluable to the development of community relations.
Afghan Police Commander Captain Esmerai described the future vision for his area:
We have driven out the insurgents in Babaji and must now concentrate our efforts on maintaining security in order to strengthen the local community," he said.

The children and families must help us in our efforts and today they have embraced my request for support.
The children in attendance were entertained with a drill demonstration provided by members of the Afghan Police and received gifts of footballs and kites as well as pencil cases and notebooks they can use in school.
Following the success of this event the Afghan Police intend developing a community engagement programme that tackles pertinent topics such as improvised explosive device awareness, the importance of living within the law, and the role of the police force in Afghanistan.
Published 17 August 2012