Afghan General visits UK troops ahead of Afghanistan deployment
The Commander of the Afghan Army's 3/215 Brigade, Brigadier General Sherin Shah, has visited members of 4th Mechanized Brigade ahead of their deployment to Afghanistan on Operation HERRICK 17 in September.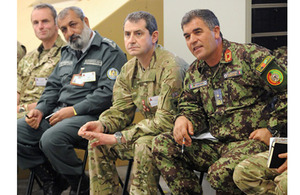 The headquarters of 4th Mechanized Brigade are currently being tested on Exercise Pashtun Horizon 3 at the Command and Staff Trainer in Warminster, Wiltshire. In order to take part in the exercise and strengthen his relationship with key commanders, Brigadier General Shah visited the site along with Helmand's Deputy Police Chief, Colonel Kamaluddin Sherzai.
The Afghan General had the opportunity to update brigade staff on the current situation in Helmand and also to take part in a planning session around a model. He has spent the last four years or so working with UK forces, during which he has taken the time to learn the British Army's planning framework as well as gaining a good grasp of the English language.
Brigadier General Shah said:
I am here for the training of 4 Brigade, who will be working with us, shoulder-to-shoulder, in Helmand. I have been working with the British for four-and-a-half years, and it's all about building relationships - these exercises are a great way to do that.
I have seen lots of benefits from these visits because there are things we need to learn from the British, but they also need to learn from us because we have lots of experience and know the current situation.
He added:
This is our war, but we are grateful for what you provide and the support you give us.
Brigadier General Shah will work closely with Lieutenant Colonel Ben Wrench, the Commander of the Brigade Advisory Group, to continue the process of transition towards full Afghan security responsibility by 2014.
Currently, 75 per cent of the population in the British sector of Helmand province is under Afghan National Security Forces control. Over the past year, 3/215 Brigade has planned and carried out more than 50 independent operations, including Operation ROZI ROSHAN, which involved almost 1,000 troops and police.
Published 20 July 2012