Afghan Colonel thanks London soldiers for training his troops
Colonel Farid Ahmadi, who has served in the Afghan National Army (ANA) for almost 20 years, was so impressed with The London Regiment soldiers…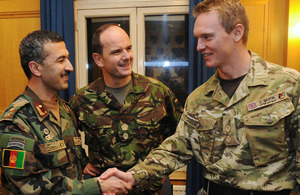 Colonel Farid Ahmadi, who has served in the Afghan National Army (ANA) for almost 20 years, was so impressed with The London Regiment soldiers' contribution that during a recent trip to the UK he took time out from his schedule to meet with them at their Horseferry Road base.
The London Regiment soldiers, who are all reservists and come from all walks of life, including estate agents, engineers, project managers, prison officers, security guards and teachers, returned from Afghanistan only last month.
Colonel Ahmadi, speaking through an interpreter, said:
We were so impressed with the quality of the training that we did not at first realise that the team were all part-time soldiers.
Over time we also learnt that the skills and experience they bring from their civilian jobs were just as valuable in assisting us to take on the task of rebuilding our country.
Lieutenant Pete Quentin, aged 27, who works as a political researcher in Westminster, was responsible for the training of over 800 Afghan soldiers in central Helmand. He said:
The lads are justifiably proud of the job they did in Afghanistan, but it's especially rewarding to know our efforts are appreciated by the people we deployed to help.
Colonel Ahmadi is an inspirational ANA commander and it's been a privilege working 'shohna ba shohna', or shoulder-to-shoulder, with him and his colleagues. So his visit and gratitude mean a lot to us all.
Published 25 November 2010