Afghan children enjoy Open Day at Kandahar Airfield
Hundreds of Afghan schoolchildren met RAF personnel at an Open Day held by the Afghan Air Force at Kandahar Airfield.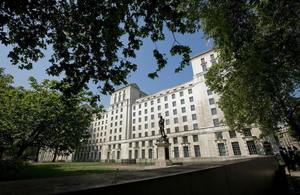 Around 500 excited youngsters took advantage of a rare opportunity to visit the flight line and get a closer look at an RAF Tornado GR4 aircraft.
And some of them spoke to crews from 12 (Bomber) Squadron, normally based at RAF Lossiemouth in Scotland, about their own military ambitions.
Shamamood, a teacher at a Kandahar children's school, said:
The older children are very interested in becoming pilots. We have not had any go through yet, but it is early days. Maybe it will prove successful in that way in the next few years.
The equipment on display from Afghanistan, the USA and the United Kingdom was soon swamped by enthusiastic children who asked lots of questions about what it was like to fly. They were accompanied by other local people and prominent elders.
The RAF personnel were delighted to have the opportunity to participate in the event and fielding questions was the Officer Commanding 12 (Bomber) Squadron, Wing Commander Jim Frampton.
The squadron is halfway through its four-month deployment and had a particularly busy final few weeks of 2011. Wing Commander Frampton said:
This event gives the people of Kandahar a chance to come in and talk to personnel who work on the air base. They can see what we do and how we and the coalition forces aim to support them.

For the Afghan adults and prominent elders here, today has been about understanding the air forces based at Kandahar Airfield and how they are aiming to promote stability.

It will also bring a sense of normality and understanding to the idea of having an accountable military, as part and parcel of a stable democracy.
Afghan Air Force (AAF) Chief, Major General Abdullah Harbi, began the day by inspecting AAF personnel on parade on the flight line. He said:
This event will give the children and their parents, the local elders and those in education an understanding of the AAF and will encourage the older children to think about a career in the military.
Senior US Air Force Commander at Kandahar Airfield, Brigadier General Thomas Deale of the 451st Air Expeditionary Wing, said:
For the children it gives them something to look forward to - a goal - and perhaps many of them will aspire to join the Air Force as they reach the age of service.

The AAF has just started its own pilot training scheme and they go through the same basic airmanship as many nations' pilots before going onto advanced training in either helicopters or fixed wing aircraft.
From where the AAF started it has made incredible advances and they are now flying air training and air support missions," he explained.
This is the third year that the Kandahar Air Wing of the AAF has thrown open its gates to host local schoolchildren. Girls and boys chatted with the military personnel on the airfield, taking the opportunity to climb inside the helicopters on display.
The day was rounded off with a meal provided by local chefs of rice, meatballs, chicken, flat breads, sweet cakes and fruit, which was shared by Afghan, UK and US Air Force personnel, local elders and the children.
Published 12 January 2012