Afghan checkpoint named after British military policeman
The British Army and the Afghan National Police have renamed a checkpoint in Helmand province after a military policeman who died protecting the Afghans he was mentoring there.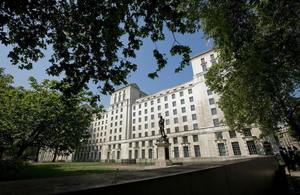 33-year-old Sergeant Robert 'L-D' Loughran-Dickson from Kent, who was based in Aldershot, Hampshire, died last November while patrolling with the Afghan National Police near the capital of Helmand province, Lashkar Gah. He was killed in an exchange of fire with insurgents.
Now his Royal Military Police (RMP) colleagues, who have followed in his footsteps and are advising the Afghan National Police in Helmand, have put up a plaque to commemorate his sacrifice and renamed the compound where he was working in the Bolan district as Check Point Loughran-Dickson.
Staff Sergeant Holly Turner, who worked with Sergeant Loughran-Dickson when she was also based in Aldershot, with 160 Provost Company, said:
He was embedded with the infantry and he set off from here with members of the Afghan National Police on a patrol on the day that he died.

He was a great guy. There are many words which could be used to describe him, but none of them would be enough. He was caring, generous, thoughtful, and a great dad.
Members of the RMP gathered for the memorial service, standing alongside the local Chief of Police, Colonel Hakim Khan, and his men.
A letter from Sergeant Loughran-Dickson's family was read aloud and described him as a 'true hero' that the whole family were extremely proud of.
Staff Sergeant Turner added:
You never forget people. Their memory is always with you. But all our troops who come through Check Point L-D, for as long as we remain in Afghanistan, will see that plaque and Rob will be a part of all their lives. That is fantastic and I think it will delight his family.
Colonel Hakim Khan, the Chief of Police whose Afghan policemen were mentored by Sergeant Loughran-Dickson, said:
We will always call this Check Point L-D after him. We are never happy when one of our mentors is injured or killed. We learn so much from them and we want every one of them to go back to their country safe and well. But Sergeant L-D's memory will stay here, with us.
Published 30 June 2010