Afghan Army's 'honorary Para' keeps on fighting
A British-trained hero of the Afghan National Army (ANA) showed the true grit and courage of the Paras who coached him when he shrugged and carried on fighting after he was recently shot.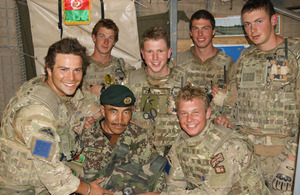 'Honorary Para' Sergeant Rasoul Bamyani, aged 45, was patrolling alongside his Afghan colleagues and their British mentors from 2nd Battalion The Parachute Regiment (2 PARA) when he was shot by an insurgent fighter.
The bullet was stopped dead by the protective plate of Sergeant Bamyani's body armour - although the force of the impact threw him to the ground, causing him serious bruising.
Sergeant Bamyani got straight back up and carried on fighting, supporting his colleagues who continued to engage the enemy. The contact ultimately resulted in the insurgents being defeated.
A veteran of the Soviet invasion, who fought for ten years against the Red Army from 1979 to 1989, Sergeant Bamyani has more recently been mentored by D Company, 2 PARA, along with his colleagues in the 4th Tolay (Company), 3rd Brigade, 215 Corps of the ANA.
Although the ANA boasts many experienced warriors like Sergeant Bamyani, the professional soldiering skills they have learned from the Colchester-based Paras have seen them develop in leaps and bounds in recent months.
The Afghan and British troops were on patrol providing security for the people in the south of Nahr-e Saraj district when Sergeant Bamyani was fired upon.
He shrugged off his actions, saying:
When we have a contact with the Taliban we must always push them back. I have no fear of them. When I fought the Red Army I only had one magazine and a rifle and we defeated them. With the equipment we now have, like the body armour that saved my life, we cannot fail to crush the Taliban.
2 PARA's Lieutenant Jonny Mortimer-Hendry, who was patrolling with Sergeant Bamyani at the time of the incident, said:
Sergeant Rasoul exemplifies the professionalism of the Afghan National Army Tolay that is partnered with us. They are brave men. With conduct like this, some would say Sergeant Rasoul is an honorary Para! He certainly displayed the courage of one that day.
The insurgents in this area have been put under pressure by the combined actions of the Afghan National Army and 2 PARA and, with men like this making up the ranks of the ANA, the pressure on the insurgency will continue long into the future.
Lieutenant Colonel David Eastman, Spokesman for Task Force Helmand, added:
Sergeant Rasoul Bamyani's actions are a clear demonstration of the determination of the Afghan Army to provide security for the people of Afghanistan. The bravery of the Afghan National Army's warriors is beyond question, and is regularly demonstrated and commented on by British and US forces across Helmand. Men like this represent the long-term future of security in Helmand province.
Published 10 March 2011