Afghan Army launches air assault in central Helmand
Afghan forces have carried out the largest air assault operation undertaken in over a year in central Helmand to disrupt insurgent activity in the villages of Malgir and Kopak, in the Nahr-e Saraj district.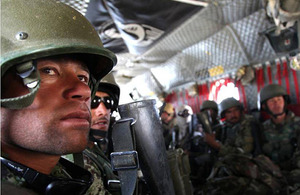 Operation OMID SHASH (Hope 6 in English) was supported by elements of 2nd Battalion The Parachute Regiment and the 1st Battalion Irish Guards, who are responsible for partnering and mentoring the Afghans. The level of support provided by ISAF troops, however, on this occasion was minimal.
The operation involved a highly complex air assault using ten helicopters, including Merlins, Chinooks, Sea Stallions and an Apache attack helicopter.
The Afghans co-ordinated reconnaissance assets, artillery, counter-IED teams, fighter aircraft and helicopters, as well as 1,000 ground troops of which 750 were Afghan. All of these were commanded and controlled by the staff of the 3rd Brigade of 215 Maiwand Corps of the Afghan National Army, under the command of Brigadier General Sherin Shah.
The element of surprise meant that, by the afternoon of the second day, Afghan commanders were able to hold a shura (meeting) with the key elders of Malgir and Kopak villages without interference from insurgents.
Key to these operations are the close relationships established between Brigadier General Shah and the governors of the districts in central Helmand, which have enabled the Afghan National Army (ANA) to target their operations to support their government's aspirations.
Lieutenant Colonel David Eastman, spokesman for Task Force Helmand, said:
Operation OMID SHASH is an incredible achievement. The Brigade's ability to plan and conduct successful operations combined with their martial spirit and determination to succeed is making them a force to be reckoned with in Helmand.
We have been especially impressed with the development of their specialist capabilities, particularly in the vital area of countering the IED threat.
Lieutenant Colonel Chris Ghika, Commanding Officer of the 1st Battalion Irish Guards, the Brigade Advisory Group, said:
The operation was intended to show a presence in an area which has been untouched by the ANA or ISAF for a number of months, to bring their local leaders to the population, to allow them to air their concerns direct to their representatives, all with the aim of deepening our understanding of the area.
Brigadier General Shah said:
I am pleased that we have just finished Operation OMID SHASH and that it was a big success.
The people were able to see the ANA in their villages and to come and listen to the District Governor. They could see that the Taliban have no freedom to come into the villages and take from the people.
The ANA have provided security for the people and have shown that they have the power to defeat the Taliban. The operation was planned by the Brigade staff and executed by troops from across the Brigade who worked with ISAF and, for the first time, used helicopters in the operation.
Published 22 February 2011