Afghan Army capture suspected insurgents in Helmand
Afghan National Army (ANA) soldiers showed their increasing capability to operate independently when 2-3-215 Kandak recently planned and executed two highly successful raids in the Sangin Valley to apprehend eight suspected Taliban insurgents.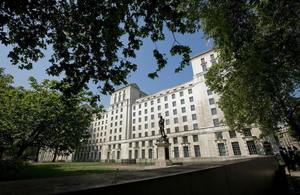 40 Commando Battle Group and the Brigade Advisory Group from 1st Battalion The Royal Regiment of Scotland (1 SCOTS) are working closely with the Kandak.
The Advisory Group's Second-in-Command, Captain Ruaraidh Stewart, said:
This is one of the strongest operations we [the Advisory Group] have seen the Kandak plan and conduct.
He was quick to point out that there was no requirement for the 1 SCOTS Advisory Group to participate in either of the arrest operations. He said:
Our presence was purely for back-up, which was not needed.
Military intelligence indicated the insurgents were working for the lead Taliban insurgent co-ordinator in Sangin's southern Green Zone area.
A number of potential locations were watched closely before the ANA launched the first, quickly planned, snatch operation. This decisive action enabled the ANA to capture three important figures without incident.
The second operation was a meticulously planned morning raid. At 0200hrs, with no light and no sound, the ANA surrounded a compound.
The insurgents were taken completely by surprise, unaware that they had been targeted.
While there was an ISAF search dog and members of the 1 SCOTS Advisory Group on location as back-up, there was no requirement for them to even enter the building. Captain Stewart said:
The ANA had the situation well under control on their own. This operation led to five insurgents being successfully arrested and detained.

This second arrest operation was authorised after an enormous IED had exploded in the northern Sangin wadi [riverbed], potentially endangering the lives of local nationals and the ANA.
The ANA soldiers from the 2-3-215 Kandak are under the command of Colonel Wadood who authorised the insurgents to be detained and arranged for their onward transportation to Shorabak, the headquarters of 215 ANA Corps. From there the detainees will be taken to Lashkar Gah for trial under the Afghan judicial system.
40 Commando Battle Group are based in Sangin to provide security to the region, mentor the Afghan National Police, partner the Afghan National Army and enable the continuation of reconstruction projects in the area.
Published 21 May 2010