Afghan Air Force reaches training milestone
The nascent Afghan Air Force has reached a milestone in its capabilities by achieving 2,000 hours of flight time in the C-27 Spartan transport aircraft.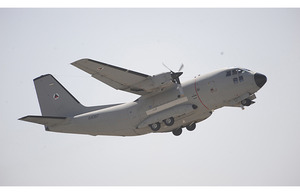 The 2,000th hour occurred during a passenger transport mission from Kabul to Kandahar on 10 February 2011.
Under the NATO Air Training Command-Afghanistan mission, a variety of countries, including Hungary, the Czech Republic, Croatia and the United Kingdom, have assisted in the development of the Afghan Air Force during the past few years.
Afghan Air Force and NATO Air Training Command-Afghanistan personnel reached the 2,000-hour milestone while transporting more than 30 Afghan National Army members from Kabul to Kandahar, all the while gaining experience, and flying solely by reference to aircraft instrumentation due to weather conditions.
US Air Force Captain Larry Needham, a C-27 advisor with the 538th Air Expeditionary Advisory Squadron, said:
Each of these milestones is an important step in the C-27's path to replacing the Antonov-32 as the main transport aircraft of the Afghan Air Force, and the centrepiece of this force.
Not only significant in marking the C-27's ascension in the Afghan Air Force, the 2,000-hour mark is a measure of pilot training and development.
Afghan Air Force Major Wali Bagrammid, a pilot on the flight, said:
Over time, as we have flown more and more, we have become better pilots and have been able to learn instrument flying.
Captain Needham added:
During the time spent in air, we have been able to observe and improve our methods of training. Because of the time spent in this aircraft, we have been able to learn how to advise and these Afghan pilots have learned how to fly.
We now have a better understanding of not only the aircraft's capabilities, but the capabilities of the pilots themselves.
Based on where these pilots are at this point in time, a day where the Afghan Air Force can fly and service these aircraft without coalition support is foreseeable. Ultimately, the goal is independence.
The C-27 is a twin-engine turboprop aircraft with short take-off and landing capability. The Spartan is well suited for Afghanistan's mountainous terrain and limited road network.
A C-27 can carry up to 20,000 pounds (9,000kg) of cargo and fuel and operate on unimproved airfields as short as 3,000 feet (900m), allowing access to airstrips unreachable by most fixed-wing aircraft.
Published 17 February 2011