Press release
UK Commission for Employment and Skills welcomes new aerospace industrial partnership
The announcement of a £10.6 million investment to create a new industrial partnership in the aerospace sector has been welcomed by the UK Commission for Employment and Skills (UKCES).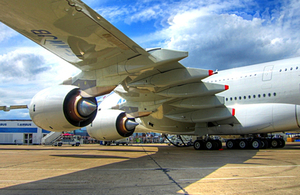 Michael Davis, Chief Executive of the UK Commission for Employment and Skills, welcomed the announcement of £10.6 million investment from the government to establish the industrial partnership for the aerospace sector.
He said:
Along with the automotive industry, aerospace and defence are among the UK's most important industrial sectors. The UK accounts for 22% of the global defence export market, while the size of the UK's aerospace sector is second only to the US.
But with other nations increasing their demand for aerospace technology, the UK will have to innovate to compete. That's why today's announcement of the Aerospace Growth Partnership for Skills is so important. Through it, the UK's aerospace companies can work together to help define and shape the skills that they need to compete on the global stage.
As with all industrial partnerships, this collaboration is led by one of the industry's largest businesses – Airbus – but is supported by all the UK's leading aerospace companies, including AgustaWestland, BAE Systems, Bombardier, GKN and Rolls-Royce. It is also backed by the Royal Academy of Engineering and ADS.
For every £1 of public money invested via the Employer Ownership Pilot, industry is forecast to contribute £1.70, making a total investment of £20.6 million in this partnership. This will help the sector develop a range of innovative programmes, including ways to attract and retain young people and developing higher-level skills through industry-led masters courses.
(Photo above by Quy Nguyen Dai on Flickr. Used under Creative Commons.
Published 4 February 2015