News story
Advocate General's Legal Forum
The third meeting of independent legal experts took place in Edinburgh on Monday 30th September 2013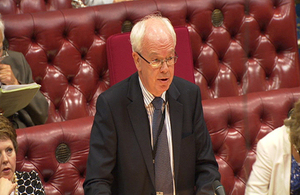 The Advocate General for Scotland hosted the third meeting of a forum of independent legal experts in Edinburgh this week. The forum was established in 2012 to explore the legal and constitutional issues raised by the debate on Scottish independence, and met previously in August and November last year. Attendees included leading legal professors, senior practising lawyers and other legal experts.
The forum focused on some of the legal issues that would need to be considered were an international border to be established between Scotland and the rest of the United Kingdom. The forum's discussions will help to inform the ongoing work being undertaken by the United Kingdom Government to provide robust, evidence-based analysis to inform the debate prior to the referendum next year through its Scotland analysis programme [link].
Lord Wallace of Tankerness QC said:
"This forum of legal experts has provided an excellent means of rigorously testing some of the critical issues which are raised by the independence referendum.
"Previous meetings of the forum have made significant contributions to the debate, helping to challenge assertions made by the Scottish Government in the past, for example on automatic continuing EU membership, on the basis of informed, expert analysis.
"Monday's meeting was another excellent event at which some of the implications of establishing an international border were critically examined, and it will help to inform the UK Government's ongoing Scotland analysis work.
"We in the UK Government will continue to put evidence and analysis at the heart of this debate, and I would urge the Scottish Government to follow our lead and move away from mere assertion. The people of Scotland deserve better as they approach a referendum which could result in an irreversible departure from the rest of the UK."
Published 4 October 2013