Adoption statistics: statement from Edward Timpson
Edward Timpson, Children and Families Minister, speaks about the adoption statistics released today.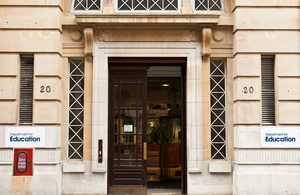 Edward Timpson, Minister for Children and Families, said:
The rise in the number of adoptions and adoption placement orders is extremely welcome, but it still takes too long for those who want to adopt and foster to be approved. The time it takes for a child in care to be adopted can be a significant period in that child's life.
I know from my own family that parents who adopt and foster bring stability to young lives. That is why we are overhauling adoption, but I know that our reforms will take time to make a full impact.
So we are looking at measures to encourage councils to make use of adopters in other parts of the country. We will shorten the approval process and fast track those who are already foster carers.
Taken together I hope these reforms will, over time, encourage more people to come forward and volunteer to adopt children. I want more young children to have a settled start in life with a loving family.
That way, they can make a profound and lasting impact on young lives.
Related links
Children looked after by local authorities in England This release provides statistics on looked-after children at a national level.
DfE enquiries
Central newsdesk - for journalists 020 7783 8300
General enquiries - for members of the public 0370 000 2288
Published 25 September 2012