Additional military support to Olympics security
Defence Secretary Philip Hammond has confirmed that an additional 3,500 military personnel will be deployed as part of the security arrangements for the 2012 Olympic Games.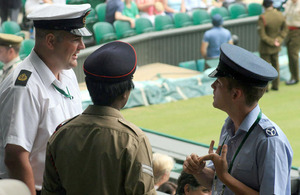 This will bring the total number of military personnel, from all three Services and including reservists, contributing to the safety and security of the Games to 17,000.
In a Written Ministerial Statement, Mr Hammond said that as the venue security exercise has got under way, concerns have arisen about the ability of commercial security provider G4S to deliver the required number of guards for all the venues within the timescales available.
In the statement, Mr Hammond also said:
Ministers have been monitoring this situation and, where necessary, preparing contingency measures. G4S has now agreed that it would be prudent to deploy additional military support to provide greater reassurance.
The Home Secretary, Culture Secretary and I have therefore agreed to the deployment of a further 3,500 military personnel.
He added that the Chiefs of Staff recognise the importance of the Olympic Games and support this deployment, confirming that this deployment is feasible and will have no adverse impact on other operations:
Ministers across Government recognise the burden that this additional short-notice deployment will impose upon individual servicemen and women and their families, especially over the summer holiday season," Mr Hammond said.
We will ensure that all those taking part receive their full leave entitlement, even if it has to be rescheduled, that no-one is out of pocket due to cancelled personal arrangements, and that all deployed personnel are appropriately supported.
I can confirm that there remains no specific threat to the Games. Nor is there an increased threat to the Games. We are confident that the UK is ready and able to provide a safe and secure Olympic Games for the whole world to enjoy.
The Home Secretary, Theresa May, added:
We have agreed with LOCOG [London Organising Committee of the Olympic and Paralympic Games] that there will be 10,000 Olympic and Paralympic tickets donated to the Armed Services via Tickets for Troops
Access for 2,000 to spectator areas in The Mall for the Olympic cycle road races and Olympic marathon will also be made available, as will the right to buy 2,000 Olympic Park tickets.
And, in addition, I can tell the House that a total of 7,000 tickets have now been offered to troops for the dress rehearsals of the opening and closing ceremonies, a significant increase to recognise the extra commitment of military personnel.
The following units will contribute to the additional military personnel undertaking security operations during the Olympics period:
ROYAL NAVY
Elements of:
42 Commando Royal Marines
Commando Logistic Regiment Royal Marines
Armoured Support Group Royal Marines
1 RIFLES (as part of 3 Commando Brigade Royal Marines)
29 Commando Regiment Royal Artillery (as part of 3 Commando Brigade Royal Marines).
ARMY
Elements of:
5th Battalion The Royal Regiment of Scotland
3rd Battalion The Parachute Regiment
7th Parachute Regiment Royal Horse Artillery
13 Air Assault Support Regiment Royal Logistic Corps
23 Engineer Regiment
1st Battalion The Princess of Wales's Royal Regiment
5 RIFLES
35 Engineer Regiment
1st The Queen's Dragoon Guards
The Queen's Royal Hussars
26th Regiment Royal Artillery
1st Battalion The Royal Regiment of Fusiliers
4 RIFLES
The Household Cavalry Regiment
and a composite unit to include elements from: 13 Medical Regiment, 216 Parachute Signal Squadron and 156 Provost Company Royal Military Police.
RAF
Elements of:
No 3 (RAF) Force Protection Wing, RAF Regiment
63 Squadron RAF Regiment, The Queen's Colour Squadron of the RAF.
Published 12 July 2012