Press release
Additional £800 million for Green Investment Bank
Business Secretary Vince Cable today confirmed that the UK Green Investment Bank (GIB) will get £800 million additional funding for 2015/16.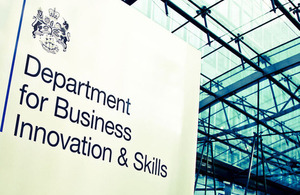 Speaking at the GIB's first annual review event in London, he said this meant that the bank would be able to allocate £3.8 billion until 2016 in its five priority sectors as part of the government's drive to promote green growth.
Vince Cable also told stakeholders that the GIB would be given the option to borrow up to £500 million of this from the National Loans Fund (NLF) - a government lending fund. This would be an important step which would enable GIB to demonstrate a track record of making healthy profits from its investments in green infrastructure whilst borrowing at a commercial rate.
As outlined in its first annual report published this week, the GIB has already directly committed £635 million to 11 transactions with a total value of £2.3 billion.
Business Secretary Vince Cable said:
Against a backdrop of tough fiscal decisions being made by government, the £800 million funding for 2015/16 and borrowing from the NLF is a clear signal to the markets that the GIB is central to the government's plans for green growth and it is there for the long term.
The GIB is already mobilising £3 of private sector money for every £1 from GIB. This additional funding will allow it to continue growing its portfolio and making a strong green impact and demonstrating the profitability of investing in green projects.
Chief Executive Shaun Kingsbury said:
Today's announcement provides an important extension of our government funding for an additional year. This substantial addition of £800 million will allow us to further our mission of helping the UK transition to a low carbon economy and build an enduring institution.
Notes to editors:
1.The UK Green Investment Bank was launched in November 2012 with £3 billion of funding from the UK government. It is the first bank of its kind in the world. It is a "for profit" bank, whose mission is to accelerate the UK's transition to a greener economy, and to create an enduring institution, operating independently of government. Further information including the annual report can be found at www.greeninvestmentbank.com.
2.In its first five months of operation (up to 31st March 2013) it has:
Committed funds to 11 transactions with a total value of £2.3 billion
Directly committed £635 million, resulting in a funding ratio that sees £1 from GIB mobilising almost £3 of private sector money
Supported transactions in all of its priority sectors: waste processing, energy from waste, offshore wind, non domestic energy efficiency and the Green Deal
Completed all transactions on fully commercial terms in line with co-investors.
3.Projects that have been backed include:
A new clean energy centre at Addenbrookes Hospital, Cambridge to help the NHS Trust reduce its emissions and save money
An equity stake in an offshore wind farm
A local authority managed recycling centre in Wakefield, West Yorkshire to reduce waste sent to landfill and capture energy from waste.
4.The government's economic policy objective is to achieve 'strong, sustainable and balanced growth that is more evenly shared across the country and between industries'. It set four ambitions in the 'Plan for Growth', published at Budget 2011:
to create the most competitive tax system in the G20
to make the UK the best place in Europe to start, finance and grow a business
to encourage investment and exports as a route to a more balanced economy
to create a more educated workforce that is the most flexible in Europe.
Work is underway across government to achieve these ambitions, including progress on more than 250 measures as part of the Growth Review. Developing an Industrial Strategy gives new impetus to this work by providing businesses, investors and the public with more clarity about the long-term direction in which the government wants the economy to travel.
Published 27 June 2013