Adaptive skiing exercise helps rehabilitation of injured troops
Exercise Snow Warrior (Adaptive) which helps injured Service personnel with their physical and psychological rehabilitation through skiing recently took place in Germany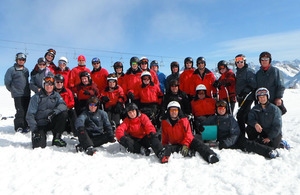 The exercise is run by Battle Back, which uses adaptive sport and adventurous training to help the rehabilitation of wounded, injured and sick personnel from across the Armed Forces, including mobilised reservists.
Amongst those helping to teach skiing to the 11 disabled servicemen on the two-week exercise in Wertach, Bavaria, were Chief Petty Officer Archie Gemmell and Flight Lieutenant Steph Groves.
CPO Gemmell and Flt Lt Groves completed training and a refresher course alongside other instructors at Haus Magnus in Wertach, Drei Muhlen Lodge run by Adventurous Training Group (Army), and on the ski slopes of Oberjoch, Fellhorn and Nebelhorn, high up in the Bavarian Mountains.
Although the Naval Outdoor Lodge and the RAF Alpine Training Centre are close by in Oberstdorf, the facilities in Drei Muhlen have been adapted for disabled personnel and hence the Army runs the adaptive skiing exercise on behalf of the three Services.
Troops with a mix of combat injuries from operational theatres, including a triple amputee and two double-leg amputees, embarked on the exercise alongside non-combat injured personnel, such as those suffering neurological trauma from road accidents.
Adaptive skiing is split into a variety of disciplines according to the type and level of impairment the student has to deal with.
For those students with lower limb loss or a disability affecting their legs a 'sit ski' is used, which involves a seat attached to a frame incorporating either a single ski or an articulated pair of skis on the base. The student uses either two outriggers on the frame or adapted elbow crutches with mini skis on the bottom to maintain balance, so they can participate on the widest range of slopes alongside everybody else.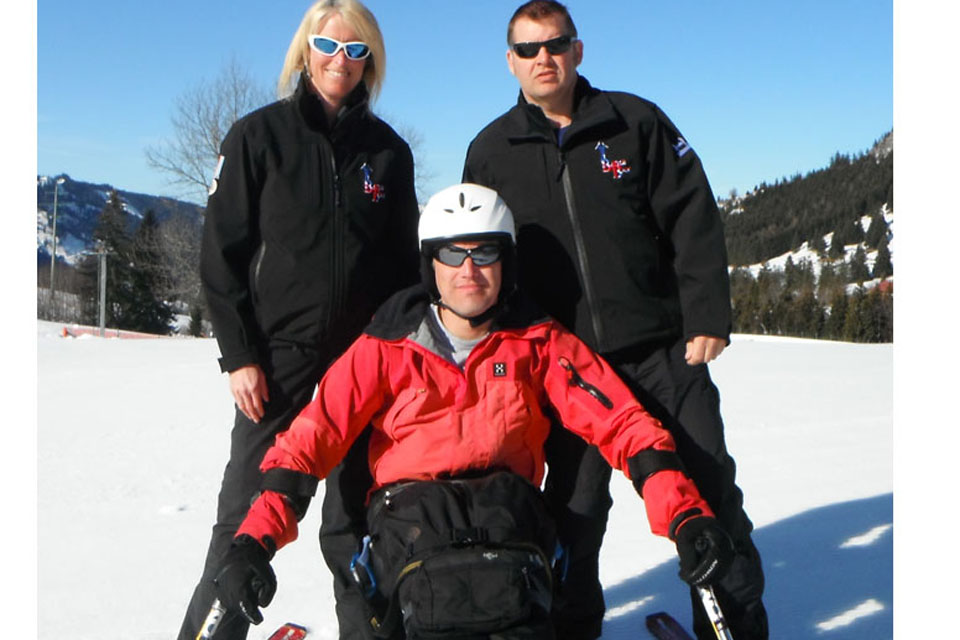 Three-track skiing is where one leg and adapted crutches (resulting in three tracks in the snow) are used and four-track skiing involves use of a prosthetic leg and adapted crutches to leave four tracks in the snow. Some skiers without limb loss, but who have other injuries including neurological impairment, may also ski four-track.
As most of the students had not skied before, CPO Gemmell and Flt Lt Groves were put to the test, but their backgrounds and training meant they were well-equipped to teach their students all they needed to know.
CPO Gemmell qualified as a Joint Forces ski instructor in 2000 and further enhanced his qualifications and skills when he and his wife Debs travelled to the Rocky Mountains in Canada in 2008 to undertake the Canadian instructors' qualification.
Having initially learnt to ski before joining the Royal Navy, CPO Gemmell has been to numerous Royal Navy ski championships over the years and intends, having attended Exercise Snow Warrior as an Adaptive Assistant this year, to apply for the instructor course next ski season. CPO Gemmell said:
Whilst in Canada qualifying as a Canadian ski instructor I was fortunate to have the opportunity to work with an adaptive skier for a few days. Knowing how much pleasure and freedom this gives the individual, when the opportunity arose to come out as an Assistant with Exercise Snow Warrior (Adaptive), I jumped at the opportunity.
I was honoured to be given the chance to spend time with an amazing bunch of people all with the same passion, grabbing life and enjoying every moment. Skiing is a great leveller of ability and allows anyone with or without a disability to be treated as an equal.
Flt Lt Groves was a Physical Training Instructor in the Royal Navy before commissioning into the RAF as a Medical Support Officer two years ago.
Having served with the Navy in a number of places including Scotland, Portsmouth, Plymouth, Gibraltar, Kuwait and Northern Ireland, she is now serving as Business Manager for the 15 Regional Rehabilitation Units staffed at HQ Air Command, and because of her contact with injured personnel became involved with the Battle Back scheme.
Having learnt to ski through the Navy she decided to take her skiing to a new level and has attended Exercise Snow Warrior (Adaptive) for five years as an Assistant. Like CPO Gemmell, she now intends to attend the instructor course next ski season. She said:
To be able to participate and assist in an Exercise Snow Warrior is an honour. The experience is incredibly humbling but also uplifting in allowing able-bodied personnel to view at first hand the difficulties those living with disability face on a daily basis.
I don't believe we can ever understand how hard it is when even to shower and dress becomes a challenge. The students taking part not only 'Battle Back' in their normal activities of daily life but somehow find the strength to undertake new challenges.
Skiing, in any form, is mentally and physically challenging and the achievements of the students are awe-inspiring. However, it must be remembered that the skiing is only part of the challenge of this exercise.
Travelling with enormous disability brings its own issues as does different accommodation and messing facilities.
Having taken part in a number of these exercises previously I take a rather less narrow view of life on my return, looking much more to the positive, challenging side of life rather than getting drawn into minor issues.
Battle Back is an MOD-led initiative in partnership with and funded by both the Royal British Legion and Help for Heroes.
Battle Back programmes are designed to promote confidence and independence and help accelerate physical, psychological and social recovery (mind, body and soul) - inspiring the wounded, injured and sick to focus on those things that they are able to achieve.
Published 18 May 2012