World news story
Adam Creighton wins UK Business Journalism Placement
Journalist Adam Creighton from The Australian wins 10-day placement at the Financial Times in London.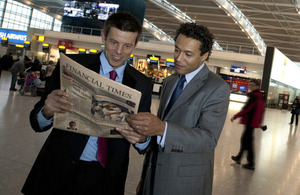 The British High Commissioner to Australia, His Excellency Mr Paul Madden, today announced that Adam Creighton from The Australian has been awarded the third UK Business Journalism Placement.
Adam will spend 10 days working from the Financial Times' London office researching and writing business stories for an Australian audience.
After reviewing the applications, Mr Madden said:
I was impressed by the high quality of the applications we received but Adam's application stood out for its thorough grasp of many of the major economic and financial issues facing the UK and Australia. I'm looking forward to reading the stories that will come out of his time at the FT.
Ms Nicole Backo, British Airways Regional Commercial Manager for South West Pacific said:
We're very much looking forward to welcoming Adam on board and providing him with the first of a number of unforgettable experiences over the course of his trip. He'll be exposed to true quality and service the likes of which only British Airways can provide.
Adam will travel to London Business Class on British Airways' new 777-300ER aircraft, flying in and out of Heathrow's award-winning Terminal 5. Australian domestic flights, accommodation and subsistence will be covered by the British High Commission.
Published 29 November 2013