Acts of bravery in Afghanistan and UK recognised
Service personnel from all three Services honoured in the latest Operational Honours and Awards List have been recognised for acts of leadership and bravery in Afghanistan, as well as heroic acts in the UK. Report by Leigh Hamilton.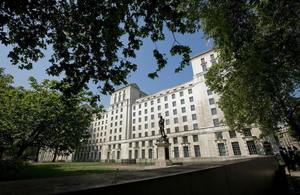 The latest Operational Honours and Awards List recognises service on operations in Afghanistan and national operations for the period 1 October 2010 to 31 March 2011. Of the 140 honours, three are posthumous.
16 individuals are being awarded a Military Cross (MC) which recognises exemplary gallantry during active operations against the enemy on land.
One of the recipients is Warrant Officer Class 2 (WO2) James Palmer, from the Royal Logistic Corps, who is being honoured for his actions while on operations in Afghanistan in December 2010.
During a patrol in Sangin, WO2 Palmer left the relative safety of his Husky vehicle to rescue an injured Afghan National Army (ANA) soldier who had dismounted a vehicle during an ambush.
Under fire, WO2 Palmer moved the casualty back to his vehicle and communicated with the rest of the ANA troops to facilitate the movement of the patrol out of danger.
WO2 Palmer said:
I'm overwhelmed, honoured and humbled to get this MC. Working with the ANA was a fantastic opportunity to see how they operate and I made some very good friends.
I mentored the Regimental Sergeant Major out there as well as the Transport Commander. The Afghans are very tribal and they don't accept you straight away, so you have to work on that. If you're experienced and you can tell them stories, they accept you and listen to you.
Sergeant Kaye Wilson from the Royal Army Veterinary Corps is one of 11 military personnel to be made a Member of the Order of the British Empire (MBE) in these latest operational honours.
Sergeant Wilson is being recognised for her role as a high assurance search dog handler during her third tour of Afghanistan from September 2010 until March 2011.
Along with her Belgian Shepherd, Obama, who was 18 months old at the time, Sergeant Wilson was based in Nad 'Ali (South) and the Gereshk area. The duo would move ahead of troops to investigate any area that a search team had deemed as a high threat.
On finding out about her MBE, Sergeant Wilson said:
It's amazing. It's a team effort and I feel very humble that I'm one of the team. I'm glad I've received it, partly on behalf of the high threat teams and on behalf of the other dog handlers that have done far greater things than myself.
My family are completely elated that I'm getting this honour.
Sergeant Wilson explained the importance of building a bond when working with a military dog:
It's different working with a dog than it is with a human," she said. "The dogs are highly strung and highly driven, so it's not a relationship where the dog is cuddled.
It's a working dog and is maintained as a working dog, but you do bond with the dogs as they provide a bit of normality when you're in the middle of nowhere.
The dogs have no concept of danger, so they don't know what they're searching for. The only thing that may spook them is our reactions to things, so if we start running around they can sense that something's going on.
I'm sharing this MBE with Obama," she said.
Lieutenant Commander Pauline Aird from the Royal Navy is being honoured with the Queen's Commendation for Valuable Service (QCVS) for her role in delivering operational safety models to commanders in Afghanistan so they can operate with maximum freedom, but within policy.
During her deployment in Afghanistan from July 2010 until January 2011, she spent half of her time in Bastion and the other half travelling around different forward operating bases across Helmand.
Lieutenant Commander Aird said being awarded a QCVS came as a pleasant shock:
It was a surprise and I am very pleased. It wasn't expected. The tour gave me the chance to have some tri-Service experience which was absolutely fantastic.
It was a completely different experience to what I had done before as I was previously embedded in industry working with Thales and Babcock on the carrier design as I have a naval architecture background.
Flight Sergeant Mark Lean from the RAF is being awarded the Queen's Commendation for Bravery for his actions during a dramatic rescue of a group of climbers who became stranded on Ben Nevis in December 2010.
In perilous weather conditions, Flight Sergeant Lean led his Search and Rescue team to recover the climbers from the ice-covered mountainside in the pitch-dark:
I feel honoured and I graciously accept this on behalf of my team. My family are very honoured as well," he said.
There was a variety of circumstances that led to this particular incident to be difficult; lack of fuel, conditions on the ground, the dark, and the positions that the casualties had got themselves into.
A lot of rescues we undertake are difficult for a variety of reasons, but this one had quite a few elements that made it tricky.
Published 3 October 2011